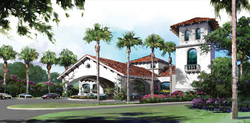 We were taken with the landmark property while visiting nearly 15 years ago. We felt it had amazing development potential given its key location, unique layout, spectacular grounds and proximity to the South Mountain Preserve
Phoenix, AZ (PRWEB) April 23, 2009
Grossman Company Properties today unveiled its newly redesigned Arizona Grand Resort in Phoenix - a $52 million redevelopment project inspired by the developer's passion for the popular family vacation resort that balances elegance with casual fun and boasts some of the largest meeting facilities in Phoenix. An event to celebrate its much-anticipated debut will take place on April 23rd.
"We were taken with the landmark property while visiting nearly 15 years ago. We felt it had amazing development potential given its key location, unique layout, spectacular grounds and proximity to the South Mountain Preserve," said Matt Crow, President & CEO of Grossman Company Properties. "We kept track of it through the years and when it became available in 2006, purchased it with a vision that has become an outstanding reality."
The intricately planned and executed renovation has touched every aspect of the property. Designed as the heartbeat of the Resort, a new 25,000-square-foot lobby features the Resort's newest dining venues, The Lobby Grill and The Lobby Bar. The Resort also introduces the Marketplace, a focal point in the new lobby which is home to the Marketplace Café, the Golf Pro Shop and the Resort Shops.
As the center of Resort activity, the lobby incorporates a residential feel into the design. In addition to restaurants and shops, the space offers guests an intimate lounge area, a convenient concierge desk, and beautiful patio complete with couches and fire-pits overlooking the golf course's first tee.
"When Grossman purchased this Resort, they set out to create an exceptional experience whether you are looking for a family vacation resort or meeting facilities in Phoenix. We're now ready to present this dream to the community," said Arizona Grand Resort Managing Director Richard Behr.
Dining, Drinks and Shopping:
Against a stunning backdrop of indoor and outdoor spaces, The Lobby Grill blends the expertise of Executive Chef Robert Graham and Food & Beverage Director Mark Bertolacini into an American dining concept that weaves fresh produce and natural ingredients from local purveyors into all its dishes. The restaurant serves breakfast, lunch and dinner while offering spectacular views of the golf course. Simple fare from the new American menu includes daily market-fresh fish and pasta signature entrees, pizzas from The Grill's wood-fired pizza oven, pecan wood fired steaks (Chef Graham's secret recipe), rotisserie chicken, Sweet Potato Fries or Grilled Artichokes; and for dessert try The Bomb, a banana rum mousse cake, or the Deep Fried Cinnamon Bread Pudding with Newcastle Ice Cream. Reservations can be made by calling 602-431-6476.
For a drink at sunset or post-dinner nightcap, move into The Lobby Bar, a lounge-y Tommy Bahama-inspired gathering spot where guests and locals alike can sip festive cocktails such as the Raspberry Dew Drop or Grand Mai Tai. Patrons may also order from the full Lobby Grill menu in addition to a smaller bar selection featuring new takes on old favorites. For example, Chef Graham serves-up (soon to be famous) traditional, garlic hot and brown butter & sage chicken wings. Flat screen televisions will air local news and sports coverage while visitors enjoy a game of billiards in the back or relax next to a roaring fire on the patio.
The Marketplace offers the Golf Pro Shop, Resort Shops (offering gifts, logo wear, golf attire, and sundries) and the Marketplace Café. The Café features lighter, on-the-go fare and Starbucks© Coffee. Everything will be created fresh daily in the Grand's kitchens including the pastries, sandwiches, gelato and even the jams such as the Strawberry Jalapeno and Rosemary Pear.
Back to the Beginning:
The Arizona Grand Resort's renovation process began in 2007 with exterior and landscaping improvements, a new property lighting concept as well as guest suite enhancements. In 2008, renovations on all 640 guest suites were completed, enhancements to multiple restaurant options were added, and additions to the spa and athletic club and a golf course redesign were finalized. Earlier this year, this well-known family vacation resort opened the new Arizona Grand Villas, adding 100 luxury residential-style accommodations to the Resort's room inventory.
Special Grand Opening Packages:
In celebration of the Grand Opening of Arizona Grand Resort in Phoenix, guests can take advantage of a limited time Grand Opening Package offer, with over $300 of added value included nightly. For stays between Friday, April 24 and Thursday, May 21, rates start from $199* for a newly re-designed suite and include the following for each night of the stay: two rounds of golf**, $50 food & beverage credit at The Lobby Grill, $20 spa credit on a 50- or 80-minute spa treatment and up to six wristbands to the water park. Guests can call 602-438-9000 or log onto http://www.ArizonaGrandResort.com and enter the promo code PROGOP. Limited time offer and based on availability.
About Arizona Grand Resort:
The Arizona Grand Resort in Phoenix is located on 164 beautifully-landscaped acres at the base of the spectacular South Mountain Preserve and boasts 640 residential-style suites and 100 luxury Villas accommodations. The AAA Four Diamond rated property completed a $52 million renovation to enhance the property including all guest suites, main lobby, spa, golf course, and restaurants. A member of the Preferred Hotels® & Resorts Ultimate Luxury Collection, Arizona Grand Resort offers the 7-acre Oasis Water Park, an award-winning 18-hole golf course, seven unique dining venues, the full service Arizona Grand Athletic Club & Spa and 117,000 square feet of meeting and function space, including a 20,000 square-foot exhibit pavilion. Arizona Grand Resort is independently owned and operated by an affiliate of Grossman Company Properties (GCP), one of the premier commercial and residential developers in the western United States. During the past 45 years, GCP has built, developed and managed more than 14 million square feet of high-quality properties, including the Arizona Biltmore Resort, Biltmore Fashion Park and the Phoenix Spectrum Mall. More information on the Resort is available at http://www.ArizonaGrandResort.com .
*All rates are per night and based on availability. Rate does not include resort fees, incidental charges or taxes.
**Cart fee applies per person
###