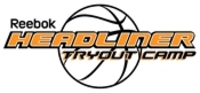 For many years, access to national camps was often based off of who you knew or which travel program you played for. The Reebok Headliner Tryout Camps have changed all that and now gives players an equal opportunity to earn their way into events that give them outstanding exposure
Poulsbo, WA (PRWEB) April 24, 2009
This month marks the beginning of the 2009 Reebok Basketball Headliner Tryout Camps operated by Driven Athletics for the third year in a row.
Reebok Headliner Tryout Camps are the most unique camp property in the country, as they are the only camps where invitations can be earned to Reebok's exclusive All-American and Breakout Underclassman camps held later this summer.
No longer do players have to break through barriers for entry to invitation-only camps. Registration for Headliner Tryout Camp is open to any high school basketball player in the country, regardless of ability.
In 2008, over 1300 players participated in fourteen regional Reebok Headliner Tryout Camps across the country. Incredibly, sixty-four of those players earned invitations to the Reebok All-American Camp --over half of the total RAAC spots! Additionally, eighty-four invitations were extended to the Reebok Breakout Underclassman Camp, one of the premier instructional and development camps in the country.
The schedule and event sites for this year's Reebok Headliner Tryout Camps are as follows:
May 16-17, 2009
Meadow Creek High School, Norcross, GA
Attack Athletics, Chicago, IL
Roosevelt High School, Corona, CA
May 30-31, 2009
Princeton High School, Princeton, TX
Hoop Magic Sports Academy, Chantilly, VA
Mansfield SportsPlex, Boston, MA
League America Facility, Houston, TX
Mississippi Athletics and Basketball, Jackson, MS
San Francisco City College, San Francisco, CA
June 6-7, 2009
Hoops Basketball Academy, Louisville, KY
Philadelphia University, Philadelphia, PA
The Reebok Headliner Tryout Camps are open to high school players graduating in 2010, 2011, and 2012. The weekend basketball experience will consist of individual skill assessment stations and competitive full-court games.
"For many years, access to national camps was often based off of who you knew or which travel program you played for. The Reebok Headliner Tryout Camps have changed all that and now gives players an equal opportunity to earn their way into events that give them outstanding exposure," said Christopher Rivers, Reebok Director of Basketball. "Finally, the undiscovered have a chance to be discovered."
The cost to attend a Reebok Headliner Tryout Camp is $125. For camp registration information, log on to http://www.ballercircuit.com. Check out BallerCircuit.com for a full recap of all the players that earn invitations through the Reebok Headliner Tryout Camp in 2009.
Reebok Headliner Tryout Camps are managed by Driven Athletics (Poulsbo, WA). Driven Athletics specializes in managing camps, combines, clinics, and tournaments. Their event management staff brings many years of experience operating quality events with the use of the latest technologies to create a unique environment for participants, coaches, spectators, and sponsors.
BallerCircuit.com is the official digital content partner of the Reebok Headliner Tryout Camps, as well as other Reebok Grassroots Basketball properties.
About Reebok
Reebok International Ltd., headquartered in Canton, Massachusetts, is a leading worldwide designer, marketer, and distributor of sports, fitness, and casual footwear, apparel, and equipment. A subsidiary of the adidas Group, the company operates under the multiple divisions of the Reebok brand, Reebok-CCM Hockey, and the Sports Licensed Division. For more information, visit Reebok at http://www.reebok.com.
# # #