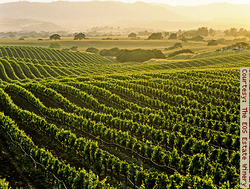 When the many compelling variables of ROSI (Return On Solar Investment) are considered, out-of-pocket system costs for organizations looking to demonstrate their commitment to the environment are reduced between 80 and 90%. Solar technologies have advanced to the point where the energy they generate is one powerful economic vehicle
Paso Robles, CA (Vocus) April 23, 2009
Going green has reached an economic tipping point - and its epicenter is at the heart of California's bedazzling central coast. This Earth Week, J. Lohr Vineyards & Wines, Eos Estate Winery & Clautiere Vineyard are affording businesses throughout the region a first-hand look at how they're using the solar energy solutions of Conergy to slash energy costs, reap robust financial incentives and harness the persistent power of the sun to fuel their operations as they protect the integrity of one of the most beautiful destinations on Earth: Paso Robles, California.
Wine and Shine 2009 is a behind-the-scenes tour of the leading-edge solar solutions these sustainable brands are employing to not only protect the integrity of the lands they harvest, but establish their brands as eco-smart solutions that can inspire vintners, growers, public agencies, water authorities and entrepreneurs with energy-intensive businesses throughout the West. It also presents an enticing opportunity to enjoy a tasting of the sun-kissed fruits of J. Lohr Vineyards & Wines, Eos Estate Winery & Clautiere Vineyard's award-winning vines.
The event is slated for 10:00 am to 1:30 pm on Friday, April 24. The management teams of J. Lohr, Eos and Clautiere - as well as the solar energy experts at Conergy -- will be on hand to share the details of their winning economic and environmental solutions with all in attendance.
Businesses, public agencies and media can learn more at http://www.wineandshinetour.org.
Conergy Project Developer Michael DeSousa, whose teams designed and installed the solar energy systems featured on the tour, says while each of the three wineries participating in the tour selected distinctly different solutions, they all agreed that environmental stewardship was paramount in their decision to go solar. "The folks at J. Lohr Vineyards & Wines, Eos Estate Winery and Clautiere Vineyard all feel environmental integrity is critical to the quality of the wines they produce," said DeSousa. "We've achieved their objectives, and the positive environmental impacts these wineries are making with the solar energy solutions Conergy has engineered for them are profound."
As a result of the J. Lohr, Eos Estate Winery and Clautiere solar power installations, CO2 emissions will be collectively reduced by 51,073 tons over 25 years. In practical terms, this is equivalent to planting nearly 892 acres of trees (which sequester carbon from our air), or eliminating the air pollution that comes from driving nearly 169 million road miles. California produces more carbon than any other state in the nation -- except Texas.
The rewards wineries like these are reaping for doing the right thing don't stop with their substantial environmental benefits. "A groundswell of financial incentives that promote energy independence, slash energy bills, combat unpredictable energy prices and reinforce the consumer cache of responsible environmental stewardship make the economic case for renewable energy solutions more compelling than ever," said DeSousa.
DeSousa says substantial federal tax incentives and depreciation associated with the system can each offset system costs by up to 30%. Supplementing that is Governor Arnold Schwarzenegger's California Solar Initiative, whose state rebates can be realized in the millions of dollars. "When the many compelling variables of ROSI (Return On Solar Investment) are considered, out-of-pocket system costs for organizations looking to demonstrate their commitment to the environment are reduced between 80 and 90%. Solar technologies have advanced to the point where the energy they generate is one powerful economic vehicle," noted DeSousa.
All of the systems being showcased at the Wine and Shine 2009 Tour and Tasting are ground-breaking. J. Lohr Vineyards & Wines features the largest solar tracking array in the wine industry, a 3-acre, state-of-the-art 756 kilowatt (kW) single-axis photovoltaic tracking system designed to offset three-quarters of the winery's energy usage. The ground-mounted installation is comprised of 4,320 modules that track the sun from east to west to optimize production of solar-generated electricity on a daily basis by producing up to 15% more peak-time power than traditional fixed-mount systems.
Eos Estate Winery's winning solution features an impressive trifecta of solar energy systems that meet close to 100% of its energy demands: a 504 kWp photovoltaic (PV) tracking system spanning over two acres, a 36 kWp, 204-panel fixed-tilt PV system to power the winery's popular visitor center and a 100-panel roof-mounted solar thermal system to accommodate the winery's hot water needs. And Clautiere Vineyard's roof-mounted system - one of the region's first -- is reducing the winery's energy costs by a whopping 80%.
"With numerous sunny days, Paso Robles isn't just ideal for producing rich and flavorful Bordeaux and Rhône-style wines, it is perfect for producing clean, renewable energy," said Steve Lohr, senior vice president of planning and development with J. Lohr. "Owning our own solar tracking array is another important step in our commitment to environmentally-conscious practices."
Added Eos Estate Winery owner Jeff Hopmayer, "Our primary motivator was to produce wines in a way that honors this beautiful coastal area and respects the environment. Conergy's complement of solutions enables Eos to optimize power generation throughout the day. These efficiencies -- coupled with the government incentives associated with this project -- made the economics of installing these remarkable earth-friendly systems viable," Hopmayer said.
About CONERGY: Conergy designs, manufactures, installs and finances solar photovoltaic solutions for major commercial sectors, public agencies, businesses and homeowners through two distinct channels. Conergy's Projects Group focuses on custom solutions for large-scale, energy-intensive enterprises; Conergy's Distribution Group serves a national network of installers, developers and dealers in the grid-tied and off-grid residential realm, while also addressing the needs of small commercial markets. With ten years' market prowess, Conergy has successfully deployed projects totaling over 1 Gigawatt of renewable energy capacity around the world. With operations in 15 countries over 4 continents, Conergy is driving today's clean energy economy via the design, production, installation or financing of close to 1 in 10 of the world's solar energy systems. Learn more at http://www.conergy.us.
About Eos Estate Winery: http://www.eosvintage.com.
About J. Lohr Vineyards & Wines: http://www.jlohr.com.
About Clautiere Vineyard: http://www.clautiere.com.
###