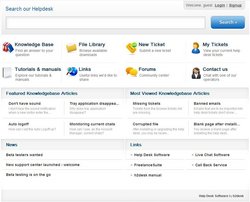 Israel (PRWEB) April 24, 2009
OnClick Solutions Ltd, the leading vendor of online customer support software for e-businesses, announces an advanced, feature-rich version of h2desk help desk software, geared to maximize online support for customers.
The latest version of h2desk provides a solution for online customer support problems that greatly enhances customer satisfaction levels. Moreover, h2desk software can be easily customized to enable every online businessman to tailor help desk features to suit their needs.
OnClick Solutions Ltd firmly believes that promoting customer confidence and trust is an essential part of any business strategy. The help desk system does just that by providing a means for you to listen to what your customers have to say.
About OnClick Solutions Ltd:
For additional information on the latest at h2desk, please find the contact information listed below or log in to h2desk.com
Go to h2desk live chat support for sales queries.
For support issues, open a support ticket.
Phone No.: +1 408 490-0862
Mailing Address:
OnClick Solutions Ltd
Tzionut 1 Avenue
Caesar Towers
Lod, Israel
###