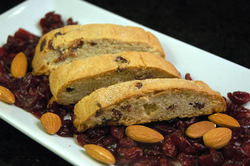 Cincinnati, OH (PRWEB) April 30, 2009
Mamma's Mandel recently announced that they have increased the variety of flavors available and have expanded distribution and sales of their popular mandel bread products nation-wide via their new online store.
Mamma's Mandel is a local family-owned business based out of Cincinnati, Ohio that bakes and sell's its own traditional mandel bread. Mamma's Mandel started with only a family recipe which has been passed down for generations and have now expended this family treat for enjoyment by all.
Mandel bread is also known as Jewish Biscotti, but is crispier & creamier than its Italian counterpart. You might be asking yourself, what exactly is mandel bread? Mandel Bread or Mandelbrodt is a dessert bread connected to the Jews of Eastern Europe. The literal definition of Mandelbrodt means almond bread, although it can also contain other ingredients. At times mandel bread is twice-baked in a way that is similar to how biscotti is baked. Mandel bread is made into a loaf and sliced like normal bread. Actually, mandel bread is more of a cookie than it is bread.
Mamma's Mandel was founded late in 2008 and is already showing great signs of success. In addition to their new on-line store, they were featured at this year's Cincinnati Fine Food Show which is a part of the popular Cincinnati Flower Show. As word of this treat grows so does its popularity. Mammas Mandel bread is currently available in several boutique cafés in the Cincinnati area including Blue Manatee Café, Speckled Bird Café and The Pleasant Perk.
Mamma's Mandel now offers eight different flavors of mandel bread to choose from. These flavors include: Almond, Apricot White Chocolate Chip, Butterscotch Chip, Cherry Chocolate Chip, Chocolate Chip, Coconut Chocolate Chip, Cranberry Almond, & Walnut Raisin.
Quality and authenticity has been a keystone with Mammas Mandel bread. Each product is made with the finest ingredients, great care and many years of tradition. Mandel bread is ideal for dunking or eating by itself. The bread is a great idea for a gift, to try for yourself or as a new dessert to bring the family together. This bread would also make a great treat for any Jewish holiday or Bar mitzvah. Mamma's Mandel is available for purchase by the pound online at http://www.MammasMandel.com. 1 pound of mandel bread typically has 12-15 pieces.
Visit MammasMandel.com today to order your own loaf of this exquisite bread.
###