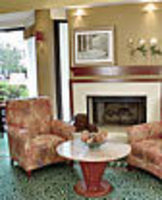 Fayetteville, NC (PRWEB) April 24, 2009
Whether its recycling, reusable shopping bags, carpooling or those fluorescent light bulbs, we all try to do our part to conserve energy. One of the most popular hotels near downtown Fayetteville, NC is making the same commitment, and has recently earned the Energy Star certification from the Environmental Protection Agency (EPA).
Per EPA guidelines, the Courtyard Fayetteville ranks in the top 25 percent of all commercial buildings nationwide for energy efficiency. This means that the hotel uses about 35 percent less energy than average buildings. Who knew that that you could help conserve energy just by staying at an Energy Star certified hotel such as the Courtyard Fayetteville?
Each of the hotel's 108 guest rooms feature luxury bedding, upgraded bathroom amenities, spacious work areas and a host of other little touches to make your stay enjoyable. The Courtyard Café serves hot breakfast daily, and Italian, Japanese and American restaurants are within one mile of the property.
Many meeting planners are tasked with finding locations that are environmentally conscious and energy efficient. Of all the hotels in Fayetteville, NC near downtown, the Courtyard Fayetteville's Energy Star rating and more than 600-square-feet of flexible space make it the perfect choice for your next meeting.
For reservations or meeting planning assistance at the Courtyard Fayetteville, please call 910-487-5557.
###