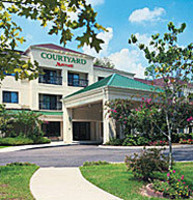 Greensboro, NC (PRWEB) April 24, 2009
In this day and age, we all try to pitch in and conserve energy - replacing regular bulbs with compact fluorescents, shopping with reusable bags, and recycling as much as possible. But what about the business community? In Greensboro, a hotel close to the Greensboro Coliseum is dedicated to doing its part. The Greensboro Courtyard by Marriott recently earned the Energy Star certification from the Environmental Protection Agency (EPA).
The Greensboro Courtyard ranks in the top 25 percent of all commercial buildings nationwide for energy efficiency, which means that the hotel uses about 35 percent less energy than average buildings. Who knew that that you could help conserve energy just by staying at an Energy Star certified hotel such as the Greensboro Courtyard?
Guests will appreciate the luxurious bedding, wireless high speed internet access, premium satellite television and other amenities that make a Marriott stay memorable. The Courtyard Café serves hot breakfast daily, and Japanese, Italian, and Mexican restaurants, as well as a steakhouse, are within minutes of the hotel.
For meeting planners searching for a Greensboro Coliseum area hotel that will satisfy environmental requirements, the Greensboro Courtyard's Energy Star rating and more than 1200-plus-square-feet of flexible meeting space make it the perfect choice for meeting.
For meeting planning assistance or reservations, please contact The Greensboro Courtyard by Marriott at 336-294-3800.
###