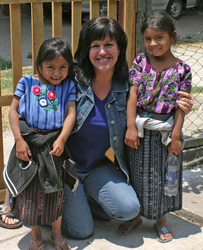 The women were so excited to hear of their product's debut at such a noteworthy event, and are truly grateful, as we are, for the opportunity to create awareness for this important project
Sarasota, FL (PRWEB) April 24, 2009
For once, the credential badges were as glamorous as the evening wear. Guests at the President's Dinner for the Sarasota Film Festival, held at the Sarasota Opera House, were presented with a sophisticated ebony and silver jewelry-like lanyard designed to hold their event credentials.
Sarasota based Bonitas International was the company that donated the lanyards. According to Kimberly Martinez, CEO "The Sarasota Film Festival was the ideal venue to launch our Mother's Promise™ lanyard collection. Not only are these necklaces beautiful and functional, they are fair trade products crafted by bead artisans in Guatemala, supporting our mission to create economic empowerment for women in disadvantaged economies. We are proud that our programs have created scholarships for over 300 elementary school children and enabled them to purchase of over 65,000 pounds of food for their communities."
Ironically, while Martinez was attending the star-studded evening with film stars, her co-founder and partner, Lisa Harrington was in a small village in Guatemala working alongside their artisans to expand the collection. "The women were so excited to hear of their product's debut at such a noteworthy event, and are truly grateful, as we are, for the opportunity to create awareness for this important project"
"When Bonitas International offered this elegant lanyard design we quickly accepted," said Mark Famiglio, President of the Sarasota Film Festival. "We were delighted that our patrons could wear their credentials with style and support the launch of this important product from a local company as well."
Founded in 2003, Bonitas International is the creator of BooJeeBeads™ ID jewelry. The flagship product collections includes beaded lanyards and retractable-reel badge jewelry available at retail locations throughout North America and Europe as well as at http://www.BooJeeBeads.com. For more information on the company, please visit http://www.BonitasInternational.com
The Sarasota Film Festival (SFF) is a nonprofit arts organization with year-round activities, culminating in an annual celebration of film. SFF offers programming and events for film enthusiasts of all economic, cultural and educational backgrounds. With the support of a passionate arts community, the Sarasota Film Festival attracts the best filmmakers, today's hottest stars, distinguished industry guests, and thousands of film enthusiasts from around the world. For additional information, please visit http://www.sarasotafilmfestival.com
Contact:
Name : Karen Bryant
Phone (941) 548-1931
Email Address: KBryant @ BontiasInternational.com
###