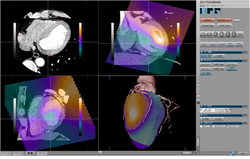 The response to our new technology was overwhelming
Redwood City, CA (PRWEB) April 24, 2009
Ziosoft®, Inc., http://www.ziosoftinc.com (Ziosoft Inc.) a leader in advanced visualization and analysis software recently showcased its latest innovations for the Ziostation® thin client system at the International Technical Exhibition of Medical Imaging (ITEM) held April 17-19 in Yokohama, Japan. Highlights of the Ziosoft exhibit included a new SPECT/CT fusion application, MR cardiac function analysis and 4D brain perfusion showing dynamic analysis using images from a 320-slice CT scanner.* Also featured was a "fine grained" load balancing concept for server clustering as well as the new zioTerm free 2D and pay-per-study 3D application model targeted towards academic users. The power of Ziostation's accessibility was further demonstrated using its recently released VersaWeb™ and proof of concept iPhone applications.
Ziosoft also presented a luncheon seminar with talks by Dr. Yasuyuki Kobayashi, St. Marianna University and Dr. Makoto Sasaki, Iwate Medical University. Dr. Kobayashi's topic was cardiac function quantitative analysis that included research he conducted with Ziosoft as a fellow at Johns Hopkins University. Dr. Sasaki addressed current and future brain perfusion assessment technologies.
"The response to our new technology was overwhelming" said Kazuhiko Matsumoto, Ziosoft chief executive officer. "For more than a decade we have been developing advanced visualization tools for the clinician and the positive reaction to our latest innovations is very rewarding."
*These products not currently cleared for sale in the United States
About Ziosoft Inc.:
Ziosoft, Inc. is a recognized leader in networked advanced visualization and analysis software to benefit physicians, patients, and healthcare specialists. Founded in 1998, Ziosoft is the leading independent advanced visualization company in Japan with over 1800 installed systems. Ziosoft is dedicated to providing intelligent and intuitive clinical tools across the enterprise. Ziosoft is a privately held company with locations in Redwood City, CA, Brussels, Belgium, and Tokyo, Japan. For more information, please visit http://www.ziosoftinc.com/products_solutions/
Ziosoft and Ziostation are registered trademarks of Ziosoft Inc.
Contact:
Betsy Davis, Marketing Communications Manager
650-413-1374
betsy.davis @ ziosoftinc.com
###