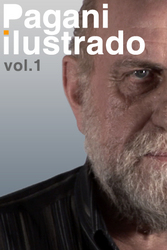 Miami, FL (PRWEB) April 24, 2009
RIDIGITAL, a digital content producer, today announced the launch in the American market of PAGANI iLUSTRADO, the first multimedia and interactive eBook about fútbol-soccer, exclusively developed for iPhone and iPod Touch
Soccer fans and amateurs will now be able to enjoy a new way to understand and analyze the game, and to know more about strategies, tactics, national teams and the history of this exciting sport.
Horacio Pagani, the author, is a journalist with more than 40 years of experience and with an active involvement in print media, radio and TV. Specializing in futbol soccer, he has traveled around the world covering different tournaments and interviewing the greatest celebrities in this sport. He was the first reporter ever interviewing a 16-year old Diego Armando Maradona, who had just kicked start his soccer career, and foreseeing him as a global star of this sport. Pagani is a great connoisseur of Argentine, South American and European soccer.
PAGANI iLUSTRADO is the first interactive and multimedia eBook - a new entertainment for soccer lovers. In this first issue, it provide the following contents
1. PAGANI EN DIRECTO (video presentation of the author)
2. LA TACTICA EN EL FUTBOL (audio)
3. EL ESTRATEGA DEL EQUIPO (audio)
4. EL FUTBOL ARGENTINO (texto).
5. EL HINCHA DE LA SELECCION (texto)
6. MARADONA DT (audio)
7. EL FUTBOL SUDAMERICANO (audio)
BONUS TRACK
BIO
NEWS
PAGANI iLUSTRADO can be purchased at iTunes' APP STORE, Apple's virtual store for the sale of music, movies and applications especially developed for iPhone, iPod and iPod Touch in:
http://itunes.apple.com/WebObjects/MZStore.woa/wa/viewSoftware?id=311946532
More information about PAGANI iLUSTRADO it´s available on:
About RIDIGITAL
RI Digital by Reporte Informativo is a digital content producer.
This is presented as an innovating solution for "content producers"; that is, companies, writers, journalists, publishers, researchers, economists, lawyers, etc., interested in publishing and selling their contents through iPhone.
It is not longer about reading a text, but also being able to see the authors on a video, to listen to their comments and opinions about their work, to learn about their lives, to see their photos and images, and particularly, to establish a direct communication channel with them through news that are regularly updated on iPhone and iPod Touch.
RI Digital has developed a new eBook concept that promotes the most personal and close experience between readers and authors: the MultiActive eBook.
This MultiActive eBook is a new concept that allow users a new way to enjoy multimedia and interactive contents on their iPhone and iPod Touch "on-the-go". This also allows them to make automatic and online update of contents, thus promoting a direct relationship and communication with people. It is distributed through iTunes's APP STORE.
If you are a writer, journalist, publisher or businessman interested in spreading contents through our technology, we invite you to contact us at:
autor(at)reporteinformativo.com
###