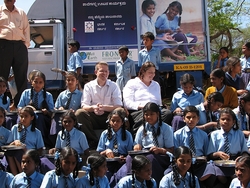 We felt it was important to work with a program that was already in place, that fit local needs and had strong local support and involvement
Norway, Iowa (Vocus) April 24, 2009 -
With a population that continues to expand at an accelerating pace, India faces a monumental challenge in feeding millions of poor children in city slums and rural, underdeveloped areas. Recently, one American company partnered with Akshaya Patra, an Indian charity, to help bring nutritious meals to nearly one million children daily.
Frontier Natural Products Co-op™, headquartered in Norway, Iowa, learned of Akshaya Patra's work through one of its organic spice suppliers in India who is closely allied with the program. Frontier's most recent donation of $20,000 purchased a specially designed meal delivery truck which supports the expansion of the program to reach even more school children
"We felt it was important to work with a program that was already in place, that fit local needs and had strong local support and involvement," says Kathy Larson, Frontier Vice President of Sustainability. "Akshaya Patra is a well-established charitable program that feeds a nutritious lunch to over 900,000 children every day as they attend school. It's already reduced the dropout rate by half -- to less than 10 percent -- in three regions and less than 3 percent in two other regions."
The food-delivery truck helps transport meals to schools in the south-central region of India. Larson and Kai Stark, Frontier's Organic Spice Commodity Manager, recently arrived back from the truck dedication ceremony where they saw first-hand the positive impact of Frontier's partnership with Akshaya Patra.
"When our vanilla supplier first suggested we get involved with Akshaya Patra, we were very impressed with what we found," states Larson. During a visit in 2008, when Frontier's CEO Tony Bedard presented Akshaya Patra with a check for $10,000 to help purchase food for the meals. "It's a wonderful program that motivates children to attend school so they can get an education and break out of the poverty cycle," states Bedard.
--Well Earth™ benefits communities, consumers around the world -
Expanding a midday meal program in India is just the latest example of how Frontier Natural Products Co-op is using its Well Earth global sourcing program to improve the quality of life in communities around the world and support the expansion of organic and sustainable agriculture.
"Frontier designed Well Earth to find and develop ethical and sustainable sources of high-quality products and to create long-term, open and honest partnerships built on sound social and environmental principles," Larson explains. "The growers receive fair prices for their commodities, which they invest back into improving the quality of their products, their community infrastructures and their standard of living. Akshaya Patra is a good example of how Well Earth benefits communities."
On this same trip, Larson and Stark were able to visit another Well Earth supplier in the state of Kerala. This supplier is actively engaged in the social and economic development of the region, with programs in organic agriculture, promotion of indigenous medicines, assistance to women and children, and community health and sanitation.
Larson and Stark visited some of the tribal farms where organic pepper, ginger, turmeric and nutmeg are cultivated. These small farms of several hectares are perched on steep slopes, rugged hillsides and tiny valleys of the Western Ghats. Because farmers are spread throughout the region with limited transportation and poor roads, many hadn't been able to visit the spice processing center or receive intensive training in organic agriculture. A fund of one percent of Simply Organic sales, which supports organic causes, granted the farmers nearly $30,000 to bring 790 farmers to Frontier's suppliers' processing plant and research and education center for a day of intensive training and demonstrations. The coordination and execution of the 45 training sessions required to train all 790 farmers demonstrates our suppliers' commitment to improving the region's organic farming methods. Each farmer received a Well Earth hemp bag with vermiculture starter kits, as well as an assortment of biological controls for various pests and diseases. "We were impressed with the quality and depth of the training, and the farmers' appreciation of the opportunity to increase their knowledge," recounts Larson.
In addition to two Well Earth suppliers in India, other certified suppliers are in Australia, Guatemala, Germany, Sri Lanka and the state of Washington in the United States. Organic ingredients produced by Well Earth certified growers include black pepper, nutmeg, vanilla beans and extracts, fenugreek, cayenne, cardamom, parsley, sandalwood, peppermint, spearmint, burdock and turmeric.
For more information on the Frontier/Akshaya Patra partnership, go to frontiercoop.com/feeding kids.
Note to editors: Digital images are available to download at http://www.frontiercoop.com/wellearth.
Frontier Natural Products Co-op™
Founded in 1976 and based in Norway, Iowa, Frontier Natural Products Co-op™ offers a full line of natural and organic products under the Frontier, Simply Organic®, and Aura Cacia® brands. Products include culinary herbs, spices and baking flavors; bulk herbs and spices; and natural and organic aromatherapy products. Frontier's goal is to provide consumers with the highest-quality organic and natural products while supporting and promoting social and environmental responsibility.
Well Earth™
Well Earth™ is Frontier's ethical and sustainable sourcing program that certifies growers and producers around the world. By meeting strict guidelines under worker safety and fair treatment, social and community impact, product safety and quality, environmental impact, and sustainable production practices. Frontier published its first Sustainability Report in February 2008 and recently issued an interim report with updates in several areas of social and environmental responsibility. To read or download the reports, go to http://www.frontiercoop.com/sustainabilityreport/index.html.
###