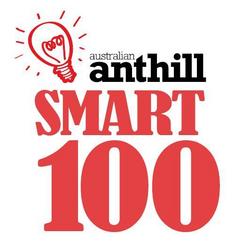 We're delighted to be recognised for innovation in Australia, which, coupled with tremendous customer growth, is testament to this
Sydney, NSW (PRWEB) April 26, 2009
QlikView business intelligence software has been named one of Australia's 100 most innovative products, according to 1,600 maven judges, in one of the largest innovation awards of its kind in Australia - the 'SMART 100' Index.
Inside Info and QlikView business intelligence software ranked number 41 on the 'SMART 100' list, due to its innovative approach in helping organisations improve on how they measure and analyse business performance.
The 'SMART 100' was unveiled recently at LifeLab, Digital Harbour in the Melbourne Docklands. Australian Anthill magazine and market research leader, Colmar Brunton, joined forces to create the 'SMART 100', Australia's largest and most democratic innovation awards. The Awards process spanned over six months and harnessed the power of 1,600 mavens identified by Colmar Brunton to judge the 861 products entered. Entries spanned a broad range of industries, including medicine and bio-technology, sport, energy, occupational health and safety, textiles, telecommunications, education, art and the environment.
According to John Shanahan, CEO, Colmar Brunton, "The maven's unique talent is his or her ability to unearth and identify, from all the new products and services available in the marketplace, the innovations that are worth propagating. A maven also generally has the ability to communicate the potential of the innovation to the broader public and, therefore, plays an integral role in the mass take-up of any innovation."
QlikView is business intelligence software that provides self-serve analysis of performance in dashboards and reports that are simple to use, powerful and delivering value in weeks. QlikView achieves this by allowing employees to freely explore related information for better insight and accurate answers, using its unique patented, in-memory association technology (AQL). QlikView builds and maintains a non-relational, associative database residing in a computer's RAM that is immediately available offline down to source transactions. Metrics are calculated 'on the fly' as the user performs ad hoc, point and click analysis.
"We're delighted to be recognised for innovation in Australia, which, coupled with tremendous customer growth, is testament to this," said Stuart Barnard, Managing Director, Inside Info. "QlikView produces very powerful business intelligence applications that enable data analysis far quicker and more widely used than traditional techniques. You can interactively analyse billions of records in seconds and scale to thousands of users for improved business performance that just isn't possible with traditional BI technologies. All in a product that's still so simple to use."
About The 'SMART 100' Index
The 'SMART 100' Index is provided by Australian Anthill Magazine and market research leader Colmar Brunton, aiming to bring a greater commercial focus to the concept of innovation.
About Inside Info
Inside Info is the exclusive distributor and local representative of QlikView in Australia - the world's fastest growing business intelligence software according to IDC. QlikView works the way your mind works - making associations by connecting data from many sources in a few clicks. This patented in-memory association technology brings fast results and better decision making. QlikView is intuitive to learn, simple to modify and can be deployed in a few weeks. Inside Info have over 230 QlikView customers including Bianco Group, Amcor, Border Express, Fujitsu General and Manassen Foods. Globally QlikView is the flagship product of QlikTech who has over 10,600 customers in 92 countries.
For more information, please visit http://www.insideinfo.com.au
For media enquiries, please contact
Jo Balfour
Progressiva
+61 2 9365 6258
+61 405 542 018
###