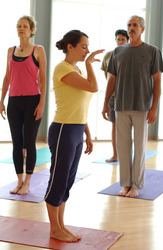 How to Teach Yoga to the Deaf
New York, NY (PRWEB) April 25, 2009
The DeafYoga Foundation (DYF) is a 501(c)(3) non-profit organization whose mission is to educate, inspire and collaborate with deaf community members in their quest to learn yoga. Sunday, May 3, 2009 marks the world's first-ever DeafYoga Day, a day dedicated to uniting the deaf community and yoga. With some 28 million deaf and hard of hearing in the United States and less than 20 instructors to educate them, DeafYoga Day is a natural response to the deaf community's desire to learn this ancient healing art. "It is imperative that we all come together to bridge this gap and create equal access for all," states DYF founder Lila Lolling.
Supporters are invited to participate in three exciting DeafYoga Day events, all open to the public. The event kicks off with daytime benefit yoga classes, in which studios will donate a percentage of their class sales to help fund DYF's rapidly growing service projects and programs. Some participating studios include Integral Yoga Institute, Sivananda Yoga Center, Moonheart Healing Arts Center and the MonQi Studio. The Exhale Mind Body Spa will then be sponsoring an afternoon "How to Teach Yoga to the Deaf" workshop presented by Lolling at their Madison Avenue location. Seventy percent of workshop proceeds will also support DYF global service projects.
DeafYoga Day culminates in an evening Fundraiser and Celebration Gala from 6pm to 9pm at the East West Gallery, home of the Alex Grey Exhibit. People around the globe are invited to watch the live webcast powered by Attain Response and supplied by Hector Torres. The webcast will be archived for easy access in every time zone. In using sign language and voice interpreters, all are invited to participate in this unique experience.
The Celebration Gala begins with a community welcome by actor Tyrone Giordano of "A Lot Like Love" and "Family Stone." Giordano, a recent graduate of the DYF teacher training program states, "I have long sought out places to receive training in the healing arts and spiritual disciplines, only to be frustrated by an unwillingness or inability to provide for my communication needs as a Deaf person. My experience with the DeafYoga Foundation-sponsored teacher training course was nothing short of life-changing, and I am forever grateful to them."
The gala also offers presentations by Lila Lolling, world renowned Indian dancer Suba Parmer, and senior disciple Srinivasan of the Sivananda organization. Gala tickets are $25 and may be purchased at the door or online.
DYF personally invites you to join them on this special day to "inspire, learn, grow, and unite". All DeafYoga Day events are open to the public, and no competency in American Sign Language (ASL) is required. For additional information on DeafYoga Day, visit http://www.deafyoga.org/DYday. For interview opportunities please DeafYoga Foundation.
###