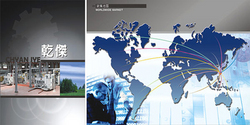 We insist to monitor each manufacturing process from packing to trial and to examine every tiny detail under the strictest control to win all customers' admiration and trust
(PRWEB) April 25, 2009
Established in 1964, Taiwan-based OEM- Chyan. Jye Industrial Co., Ltd. (CJI) consistently enhances the high product quality and process stability with about 45-years of experience in printing machinery. In accordance with the technical standards of Europe and America simultaneously, CJI supplies a variety of press machines and equipment for reasonable prices, including carton printer machines, corrugator equipment, flexo equipment, corrugated printing machines, printing equipment and more.
*From the first flexo printing machine to the worldwide business
As the inventor of the first flexo printing machine in the world, the founder of CJI, Mr. Bing-Qian Chang, unremittingly dedicates his whole life to the printing industry with great enthusiasm. Even now, owing to its premium quality of the product design and manufacturing, the first corrugated printing machine in the world made by CJI is still in use. Since the beginning of R & D, its well-experienced R&D group had devoted to produce stand-alone equipment, and later, transferred into manufacturing the whole plant equipment to tie in the leading-edge paper feeding mechanism of SUN in USA. Ambitiously, CJI spreads its business markets toward worldwide countries such as Singapore, Dubai, Arab, India, Turkey, Malaysia, China, Vietnam, Indonesia, Philippines, Thailand, Egypt, Lebanon, Argentina, Israel, etc. At present, CJI owns four agents abroad, separately in Asia, Europe, North America, and South America, and continues striving to levy agents.
*Passing SGS certification & competitive advantages of CJI products
"We insist to monitor each manufacturing process from packing to trial and to examine every tiny detail under the strictest control to win all customers' admiration and trust," said the chairman of CJI, Mr. Bing-Qian Chang.
As a top carton printer & corrugated machinery maker, all production series products of CJI corrugated printers pass the international inspection - SGS. In addition to the glory of international certification, for the users in great need of corrugated equipment, CJI can afford to provide the whole plant equipment of corrugated printing machines. As for the clients with insufficient budget for equipment purchase or low usage of facilities, CJI offers the stand-alone or simple type corrugated machines. Also, CJI furnishes with various customized equipment planning and multi-functional services to satisfy all customers' requirements of facility usage. With customer orientation, CJI makes efforts in streamlining the production capacity and enhancing the features of the products, like remote monitoring, full automaticity, excellent productivity, fully customized, high efficiency, and high stability.
Contact Information
Company: Chyan. Jye Industrial Co., Ltd. (CJI)
Tel: +886-2-29655832
Website: http://www.cji.com.tw/
Please visit allproducts.com Press Room for further information.
# # #