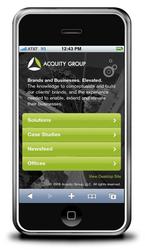 Our mobile offerings have been gaining momentum since the third quarter of last year, and it's something the market has been waiting for
Chicago, IL (PRWEB) April 28, 2009
Acquity Group, a leading services firm that focuses on digital solutions, announced today the launch of its new iPhone-optimized web site. The web site, which provides iPhone users with an enhanced experience, will be available for other smartphones in the coming months.
Created by Acquity Group's mobile development and marketing group, the goal of the web application is to provide an additional outlet for individuals to access information about its recent work, new offerings, and latest thought leadership.
"Our mobile offerings have been gaining momentum since the third quarter of last year, and it's something the market has been waiting for," said Ray Villares, Acquity Group's Director of New and Emerging Offerings. "For the past eight years we have been creating engaging experiences that leverage some of the most complex digital technology in the market, and our customers view mobile applications as a natural extension of our expertise."
Acquity Group's mobile capabilities merge its creative talent with a long-standing history of successfully deploying enterprise-level applications. Such solutions have enabled companies to better communicate their message internally and externally.
Acquity Group is currently developing more than a dozen mobile applications and optimized web sites for some of the country's leading retailers. Acquity Group has developed a rapid-launch solution that will enable an organization to roll-out a mobile commerce initiative in as fast as eight weeks.
Leaders from Acquity Group's mobile offering group are also communicating their mobile expertise locally. As an active participant in the mobile development community known as Mobile Monday (MoMo) Chicago, Acquity Group is helping build Chicago as a hub of mobile activity. Its next meeting, on May 18, will focus on Niche Mobile Marketing. For meeting details and to join the MoMo mailing list, visit: http://momochicago.com/.
About Acquity Group:
Acquity Group delivers award-winning, tailored solutions to elevate brands and businesses by maximizing the digital channel. Acquity Group's innovative strategy, marketing & design, IT planning, and commerce & content services are the cornerstone of effective digital communication for today's leading brands. Acquity Group is headquartered in Chicago and has offices in Irvine, CA; Los Angeles, CA; Overland Park, KS; Scottsdale, AZ; and Dallas, TX. To define a unique perspective for your business, contact Acquity Group at http://www.acquitygroup.com.
###