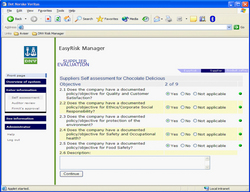 We're taking a critical business process and making it much more efficient
Katy, TX (PRWEB) April 27, 2009
On the opening day of the annual Food Safety Summit, DNV, a world leader in quality management and safety certifications, introduces EasyRisk Manager, a powerful online risk management tool for food companies.
EasyRisk Manager is a flexible, multi-user application for creating and managing risk profiles of suppliers. In one secure, easy-to-use interface, EasyRisk Manager allows food companies to register each supplier, assign levels of risk (color coded in red, yellow, green), notate incidents and monitor actions taken on risk events. The system even automatically notifies suppliers via email of potential problems that need attention.
"We're taking a critical business process and making it much more efficient," says Kathy Wybourn, Director of Food Safety Solutions for DNV. "Big food companies have hundreds, even thousands of individual suppliers. Most will tell you that assessing and tracking those suppliers, from a quality standpoint, is extremely difficult."
The features and underlying technology platform of EasyRisk Manager have been developed by DNV and proven during years of use in a variety of quality-driven industries around the world, including financial services, energy and defense. DNV now offers the technology for the first time to the food industry in North America.
Using EasyRisk Manager couldn't be, well, easier. The system invites suppliers to register and complete a structured self assessment. Risk levels are then assigned based on the company's own risk profiles. From there, every change or incident can be captured in one central location, allowing for rapid review of supplier performance. In addition, EasyRisk Manager provides transparency to safety audits whether they are performed routinely or as the result of a product safety incident.
"EasyRisk Manager allows food companies to be more proactive in their supplier management." says Ms. Wybourn. "Yes, it makes things easier, but it's more than convenience. This kind of information is essential to an organization's strategic compliance program."
EasyRisk Manager is designed for flexibility and can be configured by the user, or with help from DNV, to conform to the company's food safety policies and documentation preferences.
For more information about the features and pricing of DNV EasyRisk Manager, please contact Kathy Wybourn at 708-590-6297.
About DNV
DNV (http://www.dnv.com) is an independent and autonomous foundation working to safeguard life, property and the environment. DNV is recognized as one of the leading and most respected management systems certification bodies in the US, and has issued more than 80,000 certificates worldwide.
DNV has 9,000 employees in more than 100 countries, and is represented in the US with over 700 employees spread over more than 12 offices. DNV helps its customers to safely and responsibly improve their business performance. For more information visit http://www.dnv.com.
EasyRIsk Manager is a trademark of DNV.
# # #