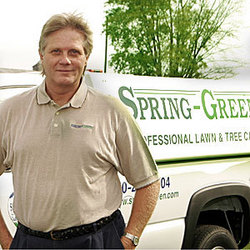 Core aeration is probably the best process you can do for your lawn outside of fertilizing it
Plainfield, IL (PRWEB) April 28, 2009
Beautiful grass begins at the roots, explains award-winning lawn care expert Harold Enger in two recently released podcast episodes of Lawn Talk, a series of conversations with Spring-Green lawn care professionals.
Through two important practices, core aeration and fertilization, homeowners can have healthier grass root systems, resulting in greener, more beautiful lawns.
Core aeration, also known as core cultivation, is one important practice homeowners can put in place to nurture growing grass at the root.
"Core aeration is probably the best process you can do for your lawn outside of fertilizing it," says Enger.
In Spring-Green's Core Aeration podcast episode Enger gives a detailed explanation of what it means to aerate a lawn. He also clears up confusion about the difference between core aeration and power raking.
As Enger mentioned, lawn fertilization is another important factor in proper grass care. Spring-Green's Organic Alternative program provides materials that improve soil while protecting grass and the environment.
Homeowners can listen to the Organic Alternative podcast episode to discover how this lawn fertilization "hybrid" offers both the benefits of organic materials and standard fertilization for creating stronger root systems and healthier lawns.
To learn more about core aeration and organic lawn fertilization, listen to Spring-Green's Lawn Talk Podcast.
About Spring-Green:
Founded in Naperville, Illinois, in January 1977, Spring-Green has been beautifying neighborhood lawns for over 32 years. Today, the Spring-Green organization provides lawn fertilization, weed control, tree and shrub care and other yard services to over 7,500 neighborhood communities around the country.
Visit Spring-Green.com to find your neighborhood Spring-Green lawn care professional. Call today and receive a free lawn care service quote.
###