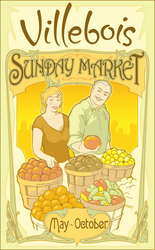 Master Planned Community of the Year
Wilsonville, Ore. (Vocus) April 24, 2009 -
In partnership with Arbor Custom Homes and Riverstone Property Management, locally owned Costa Pacific Communities will hold the Grand Opening of the new Villebois Sunday Market on Sun., May 3, 2009 from 10 a.m. to 2 p.m. in the Villebois Village Center in Wilsonville, Ore.
The new Wilsonville farmers market, which will operate every Sunday from May through October, offers a variety of Northwest-grown produce and other goods for local residents to sample and purchase.
Vendors at the Villebois Sunday Market range from favorite locally based farms, such as Unger Farms, Canby Asparagus Farm and Ken & June's Hazelnut's, to nurseries like Oregon City-based Alita's Garden and Red Dragon Nursery. Market goers will also be able to try tasty treats from The Village Waffle Baker, SweeTreats, Humdinger Kettle Korn and JGelati Italian Ice or lunch on mouthwatering barbeque from Haagenson's Catering & BBQ Ribslayer To Go. Arts and craft vendors like Ilona's Bead Werk and Sophisticated Beads will also have booths at the Villebois Sunday Market.
"Wilsonville area residents have wanted a local farmers market for a long time now and we are pleased to be able to facilitate the new Villebois Sunday Market for them," says Rudy Kadlub, CEO of Costa Pacific Communities. "By bringing locally grown food and vendors to our neighbors, we hope to further show our dedication to the local area and build a stronger sense of community in Wilsonville and within Villebois."
Award-winning master planner and developer Costa Pacific Communities and Arbor Custom Homes underwrote the costs for the Villebois Sunday Market. Riverstone Property Management also helped support the market.
For vendor or volunteer information, please contact Taraneh Foster, Villebois Sunday Market Manager, at 503-241-3834 or email VilleboisSundayMarket (at) gmail (dot) com. For more information, please visit VilleboisSundayMarket.com.
About Costa Pacific Communities
Since 1990, Costa Pacific Communities has been building communities throughout the Pacific Northwest that enrich the lives of residents. Costa Pacific has been recognized nationally for excellence in design, master planning and marketing and is the most awarded builder/developer in the history of Oregon. Most notably, Costa Pacific received a Gold Nugget Award for Best on the Boards Site Plan for Villebois at the Pacific Coast Builders Conference in 2005. The master planner's Orenco Station community in Hillsboro, Ore. received the prestigious "Master Planned Community of the Year" award in 1999 from the National Association of Home Builders. Additionally, Costa Pacific has been named Developer of the Year by Oregon's environmental watchdog group, 1000 Friends of Oregon, and twice been named the Home Builder Association of Metropolitan Portland's (HBA) Builder of the Year as well as the State's Builder of the Year. For more information about Costa Pacific Communities, please visit http://www.CostaPacific.com.
For all press inquiries, please contact:
Megan Wilber
Marketing Director
The Brick House Project
Phone: 503.525.0223
Email: VilleboisPR (at) thebrickhouse (dot) com
###