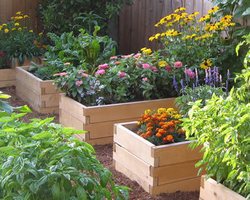 We appreciate this opportunity to give back to the gardening community.
Portland, Oregon (PRWEB) April 26, 2009
Community gardens are growing in popularity across the country as people discover they can grow their own food, be physically active, build community, and lower food bills.
Naturalyards, Oregon based manufacturer of easy-to-assemble raised bed kits, is helping to develop the Forest Grove Victory Garden and the Learning Gardens at Beverly Cleary School's Fernwood campus in Portland by donating raised garden beds. On Earth Day weekend, both gardening groups will hold ground breaking ceremonies and all-day work parties.
"We see school and community gardening as a wonderful way to encourage and educate new gardeners," Erica Johnson, Naturalyards Assistant Marketing Director said. "We appreciate this opportunity to give back to the gardening community."
The volunteer-based Forest Grove Community Gardens (FGCG), in collaboration with Adelante Mujures and the City of Forest Grove, will hold a ground breaking ceremony at the Forest Grove Victory Garden this Saturday, April 24, at 11 AM. Volunteers will spend Earth Day weekend building a garden fence and assembling six raised beds, donated by Naturalyards, for use by seniors and people with disabilities. The garden is located at the North end of Maple Street, and all are welcome to participate. Visit Forest Grove Gardens for more information.
On Saturday and Sunday, April 24 and 25, Beverly Cleary School parents and neighborhood volunteers will also break ground on the first phase of a new Learning Garden. Volunteers will spend two full days removing asphalt and installing irrigation, Naturalyards raised beds, edging and gravel paths. The Learning Garden project is designed to re-green the area with shade trees and edible plants and offer habitat and vegetation for birds and insects, and provide educational opportunities for Beverly Cleary School students, teachers and their community.
"Many would-be gardeners face issues of poor soil, lack of tools and limited space when trying to start a garden, while seniors tend to struggle with accessibility," Naturalyards gardening expert Braxton Reed said. "With raised beds, every gardener can enjoy the benefits of improved soil conditions, higher yields, ease of access, better weed control and extended growing seasons."
Naturalyards, winner of the Organic Gardening Magazine 2009 Editor's Choice Award, produces raised garden bed kits from durable Port Orford cedar boards. Naturalyards was founded in 2005 by gardeners and craftsmen to create natural raised beds kits and provide expert gardening advice. For information about Naturalyards raised beds, please visit http://www.naturalyards.com.
###