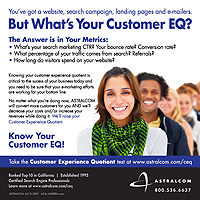 Knowing your Customer EQ - or Experience Quotient - is critical to the success of any business, both on and offline
Lakewood, CA (PRWEB) April 25, 2009
ASTRALCOM, LLC (d.b.a. ASTRALCOM Digital Business Solutions) today announced the release of their free Customer Experience Quotient Test.
In one of the first tests of its kind, ASTRALCOM has developed a unique testing and scoring web application to help quantify, measure, grade and make recommendations on a business's online marketing efforts.
Based on industry accepted measurement standards combined with the company's 13+ years in delivering successful and award-winning e-business solutions and continual success with their clients, the Customer Experience Quotient Test is designed to help companies measure and improve the success of their e-business efforts.
"The Customer EQ test is a free online test that 'crunches the numbers' and determines the overall effectiveness of a business's online efforts in website, search, e-mail and social network platforms," explained Richard Bergér, VP of E-Business at ASTRALCOM.
"Knowing your Customer EQ - or Experience Quotient - is critical to the success of any business, both on and offline," stated Bergér. "Customer touchpoints and their post-click experiences are the sensory doorways to consumers' needs and their resulting behaviors are the determining factors in any business's marketing success. The measurement of that success, or failure, is a business's Customer EQ."
The online test asks specific questions about performance and metrics in 4 main categories. At the completion of the test, participants receive a Customer Experience Quotient or Score and related comments or suggestions specific to their data input. The entire process takes about 10 minute to complete.
"While we understand that every business and e-marketer presents with individually unique scenarios, the Customer EQ Test helps them to establish a general performance baseline, identify areas of improvement and provide basic recommendations so that they can be more effective in their outcomes," added Bergér.
The Customer Experience Quotient Test is a free service and is open to all businesses and e-marketers interested in increasing their outcomes in online marketing. To take the test, go to http://www.astralcom.com/ceq.
ASTRALCOM Digital Business Solutions (http://www.astralcom.com) is a multiple award-winning digital business solution provider that creates and develops strategic Internet and e-business implementations including web development, e-commerce, search engine marketing, customer experience, content management, virtual world deployments and all aspects of Internet-related business.
Contact:
Richard Bergér, VP of E-Business
ASTRALCOM Digital Business Solutions
562.240.2114 | 562.425.6976
###