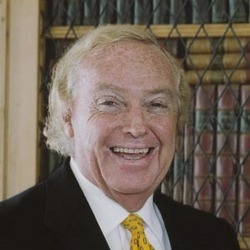 Possible contenders for the business include German insurer Allianz, which is already ($2.5 billion) an investor; Met Life Inc., Munich Re and Travelers Companies Inc.
Minneapolis, MN (PRWEB) April 27, 2009
Bob MacDonald, former CEO of Allianz Life of North America and financial services contrarian, predicts that only a buyout by Allianz SE will save the Hartford Financial Services Group.
Writing in his blog, http://www.bobmaconbusiness.com ], MacDonald claims that if recent news reports about Hartford "shopping around" its property and casualty business are true, nothing short of an Allianz SE buyout can preserve the 200-year-old insurer intact. And that would be a huge loss for the insurance industry.
What's most disappointing, said MacDonald, is that contrary to many news reports, the financial crisis is only partly responsible for Hartford's current predicament. "The financial meltdown did not cause Hartford's crisis; it only exposed the poor judgment and inept leadership of Hartford's management," MacDonald said.
"A short-sighted quest for bigger bonuses, greater sales and higher stock prices caused Hartford executives to violate the core principles of risk management that were fundamental to Hartford's 200-year run of success. In so doing, these execs pushed this venerable industry icon to the brink of self-destruction," he said.
Hartford management may argue that it is not selling off the company piecemeal in hopes of delaying the inevitable. They will postulate that their current actions are simply a logical restructuring of the company in order to help it survive the ravages of the financial crisis. But MacDonald charges that a clear sign of the depth of the Hartford crisis is the fact that management would even discuss the possibility of selling the very core of its operations, the property and casualty division. This is akin, said MacDonald, to Boeing announcing that in order to save the company, it is going to sell its aircraft manufacturing division.
Hartford has already tried and failed to sell its "dogs." Earlier this year it was widely reported that Hartford attempted to sell parts of its life operations to Canada's Sun Life Financial and continues to seek other buyers for its group benefits division. It is sad to see, but when a company becomes desperate enough to even consider the sale of its core asset, then that company is not long for this world.
According to reports, Goldman Sachs has been retained by Hartford to lead the sale and that it has been calling potential bidders. Reuters indicated, "Possible contenders for the business include German insurer Allianz, which is already ($2.5 billion) an investor; Met Life Inc., Munich Re and Travelers Companies Inc."
"It is difficult to predict if such a transaction to sell Hartford's most profitable and prized asset can actually be completed, "said MacDonald. "As in all fire sales, price can be contentious. Based on Hartford's financial statements, the management of the company places a value of the property and casualty division at $8 billion. That may be a hard bargain for Hartford management to garner when the current total market cap for Hartford is $3.2 billion. Such an obvious disconnect in perceived value is evidence that the other divisions of Hartford have a negative value. And, these are the remaining divisions from which Hartford would hope to generate its survival. .
"No matter which company, if any, ends up with the bulk of Hartford, clearly Allianz SE has the biggest risk/reward bet on the table," said MacDonald. "Allianz has the most to gain by buying Hartford, and the most to lose if it doesn't."
Last year Allianz invested $2.5 billion in Hartford. With the current market cap for all of Hartford at $3.2 billion, it is obvious that Allianz's investment is under water. MacDonald goes on to say, "If the best part of Hartford is sold out from under the Allianz investment - to another competitor no less - then clearly Allianz would be hard pressed to ever see a reasonable return on its investment.
MacDonald said the upside of an Allianz acquisition of Hartford would enable Allianz to achieve a long-held desire to become a significant player in the North American property and casualty market. On the other hand, should Allianz dilly-dally as a competitor takes the Hartford business, then Allianz would be relegated to being a bit player in the U.S. market. Such a scenario, combined with the current problems Allianz is facing with Fireman's Fund and Allianz Life of North America, could potentially drive Allianz out of the North American market altogether.
"Clearly the Hartford crisis is both an opportunity and threat for Allianz SE," said MacDonald. "In order to protect its existing investments in North America and to become the market leader it seeks to be, there is no real choice but for Allianz to buy Hartford." Will it happen? It should, said MacDonald, but it is doubtful that the current Allianz SE management group - plagued by its own past missteps and its clear inability to solve current problems in North America - has the power and gumption for such a bold move.
Bob MacDonald was formerly CEO of ITT Life, wholly-owned by The Hartford. He founded LifeUSA, which he sold to Allianz SE in 1999 $540 million and became CEO of Allianz Life of North America. Since 2002 MacDonald has headed CTW Consulting, LLC, a vehicle for offering his experience and unique approach to management and corporate culture development.
###