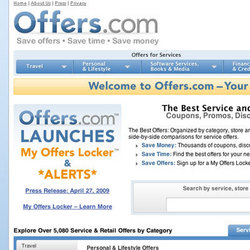 Austin, TX (PRWEB) April 27, 2009
Offers.com launched the My Offers Locker and Locker Alerts today, making it even easier to track and manage all the best online offers. Now users can sign up for a free Locker, then save offers and stores to get real-time updates that can help them save time and money.
To create their own My Offers Locker, Offers.com users can simply sign up with an email address and password, then save items to their Locker. When offers change, or when new promotions or coupon codes become available, Locker users will receive alert emails notifying them that their favorite retailers have new offers, or that an offer is about to expire. Every Locker is pre-populated with seven recommended special offers from featured merchants, including Carbonite, Diamond.com, Restaurant.com, Travelocity and more.
Offers.com works with over 1,000 merchant partners and provides users with over 5,000 current offers across 150 different categories. Offers are updated daily across the site by a team of editors, who evaluate and categorize every deal. An easy-to-remember domain name, an attractive design and robust search and comparison features make Offers.com the perfect place to go when you want to save on any online purchase.
"In any economy, savvy consumers are looking for the best offers and an easy way to save money," said Steve Schaffer, publisher of Offers.com. "Offers.com is the perfect Website to help. Our team works with our merchant partners to provide consumers with the best offers, and the My Offers Locker and Locker Alerts provide real-time offer tracking. Offers.com does the work for consumers looking to save time and money."
"We are excited to be part of the Offers.com launch of the 'My Offers Locker' to help customers save time and money managing the new Mother's Day coupons and promotions we have," Diamond.com Affiliate Program Manager Paresh Vadavia said.
About Offers.com
Offers.com is the place to find and manage all the best offers from over 1,000 partners. Offers are organized by services and retail stores into over 150 categories and classified by offer types, including promos, coupon codes, deals, free trials and more. All offers are reviewed, rated, ranked and updated daily by the Offers.com editorial team, and service offers have editors' reviews and complete details that enable users to generate customized, side-by-side comparisons. The My Offers Locker and Locker Alerts work on behalf of shoppers to continuously track the offers saved by users, as well as their favorite stores. Offers.com is an easy-to-remember domain name, and the Website is easy to navigate, with an attractive and intuitive design. Offers.com is created and published by Vertive, Inc., an award-winning performance marketing company located in Austin, Texas.
###