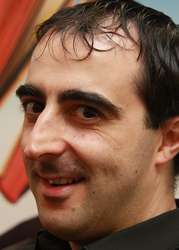 Digital is also an area where many marketing agencies benefit from advice, either to maximise their offering or to be able to talk to their clients on the right level
(PRWEB) April 29, 2009
A new service to improve the performance of websites and digital marketing has arrived in the Midlands. Clarity Digital is the first dedicated digital planning and reporting agency outside London.
Clarity's proposition is simple: to provide clients with access to high level strategic planning and reporting for digital marketing activities, either for their own business, or for their clients'. Clarity's expertise spans right across the digital spectrum including website development, search engine marketing and the as yet untapped areas of social media and viral marketing.
Clarity founder Jason Navon has worked with a number of high profile agencies in the region. He said; "Digital marketing continues to grow, but client investment is often made without a wider strategic plan in place. There is an increasingly complex range of sub-discipline and spend can be led more by an agency's capability rather than by a robust strategy based on genuine audience insight matched to business objectives. This is the gap that a service like ours fills."
"Digital is also an area where many marketing agencies benefit from advice, either to maximise their offering or to be able to talk to their clients on the right level".
This view is echoed by ad and PR agency Ward Lovett, one of the first in the region to use Clarity's services. Nick Lovett said; "Digital is an area that everyone wants to capitalise on, but very few are geared up to do it properly. Clarity has provided us with digital planning that has helped us and our clients at the same time as helping to develop our own skills."
Editor's notes
Clarity Digital was set up at the end of 2008 by digital veteran Jason Navon. His background includes McCann Erickson and Fuse. The agency targets both clients and agencies. Clients on board to-date include recruitment consultants Pitch, Ad & PR agency Ward Lovett and digital agency Made Media.
The agency expects to announce further client wins in the comings weeks.
Clarity's core offering includes:

Strategic planning & consultancy
Reporting & analytics
Supplier selection/management
Sector experience includes:

Automotive
B2B
Education
Fashion
Financial services
FMCG/Grocery
Household appliances
Legal/professional services
Retail/e-commerce
Travel and tourism
For further information contact Jason Navon, Director (jason@clarity-digital.com) on 0121 370 7169.
###