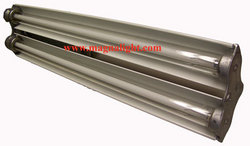 Explosion proof lights are larger, heavier and have more seals and fasteners than general area lighting
Dallas, TX (PRWEB) April 28, 2009
LED replacement lamps for fluorescent hazardous location lights offer several advantages to the operator, including reduced electricity usage, elimination of replacement ballasts and longer lifespan. Longer life LED bulbs are a big part of President Obama's "green" initiatives in the government sector, because they draw less electricity and reduce landfill waste. In the hazardous location lighting marketplace, benefits include reducing the risk and time associated with changing lamps in lighting fixtures with additional seals.
"Explosion proof lights are larger, heavier and have more seals and fasteners than general area lighting," explained Rob Bresnahan, President of Larson Electronics' Magnalight.com. "When a bulb goes out, operators must take more time and care in replacing those lamps. Improper replacement of seals and fasteners can void the hazardous location rating. Longer life LED lamps reduce the frequency of changing these lamps, lowering the risk and cost associated with maintenance and repair operations, which can make them much better lights for spray paint booths. Our LED lamps don't require ballasts, so we completely eliminate the need for replacing ballasts in our fixtures as well, which is a much more time consuming endeavor. There is also a reduction in safety risks, since the operators must typically use ladders and lifts to reach ceiling mounted explosion proof lights. Changing the bulbs less often reduces these safety risks as well."
"Our LED lamps produce approximately the same light output as high output 60 watt fluorescent lamps. Also, the color is closer to a "daylight" output typical with higher rendition lights and Kelvin ratings above 5000. As such, operators won't have to sacrifice luminosity for this change. They will, however, face higher costs. Well constructed lamps are more costly than conventional fluorescent lamps. For our popular explosion proof paint spray booth light models, like the EPL-48-2L (4 foot 2 lamp) and the EPL-24-2L (2 foot 2 lamp), adding LED bulbs will add about $240 to the cost of each fixture. In fact, this cost will be applicable to our hazardous location fixtures, like the HAL-48-2L and the HAL-24-2L, which will also accommodate the LED lamp upgrades. All of our explosion proof fluorescents lights are and will be upgradeable to our LED lamps. Operators can purchase our standard models, equipped with fluorescent bulbs now and change over to our LED bulbs at any time. New paint spray booth lights equipped with LED bulbs will not include a ballast, so they will not be backwards compatible with fluorescent bulbs."
Rob continued, "we make a fairly wide range of LED lighting for all kinds of military, vehicle, boating and industrial applications." As such, we have learned from these experiences and produce a LED bulb replacement for fluorescent lights that will have the same durability, longevity and quality of our other LED lights."
Larson Electronics LLC offers a wide variety of LED lights for vehicles, boats and industrial applications and a wide range of surface mount and portable explosion proof lighting. You can learn more about Larson Electronics LLC at magnalight.com or by calling 1-800-369-6671.
###