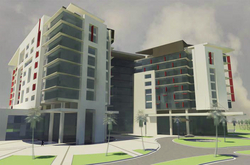 Dallas, TX (PRWEB) April 29, 2009
Bridgegate Medical Center is projected to be a 366 bed acute care hospital. The hospital will be part of a health village which will include medical office buildings, a hotel, teaching and research facilities. Bridgegate is planned as a sustainable self supporting community which will provide its own electricity, water and sewer systems plus housing support. The new healthcare village will operate without dependence on energy or utility support from the local government.
American University Health Care has been selected as the lead organizational and strategic planning consultant. Led by General David Young, M.D., the AUHC team is guiding the planning and development of the new healthcare delivery organization.
###