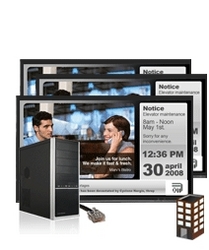 By having access to control our content we can change it up daily or when needed to add new promotions
(PRWEB) April 28, 2009
Tin Cup Sports Grill has recently launched ScreenScape to entertain guests while they dine. The Sports Grill has chosen ScreenScape, the leader in Venue Networking, to promote their restaurant to other locations within the network.
John Stratigeas, Owner of Tin Cup Sports Grill, noted, "Social media has never played such an integral part of a digital signage solution and that really helped with our decision to go with ScreenScape. The solution does more for us than just display our events and daily specials, there's a community to share our content with, which helps us promote our sports grill to other sites on the network."
In a busy environment with 14 high definition flat screens, Tin Cup Sports Grill has ScreenScape running alongside sports games to add their in-house messaging as part of the mix, allowing them to inform guests of upcoming events, sports news, and daily specials.
"By having access to control our content we can change it up daily or when needed to add new promotions," says Stratigeas. "Plus our customer reactions have been positive, as they see the latest sports news headlines along side the activities we are planning."
"Venue Networking is the key to communicating intelligently and cost-effectively to people where they live, work and play," remarked ScreenScape CEO, Kevin Dwyer. "We are very pleased businesses like Tin Cup are able to promote their specials and events to similar sites like local golf clubs in the region. It's a win-win situation for all parties."
Leveraging the cross promotional capabilities of ScreenScape, Stratigeas now plans to deploy the solution at Tin Cup Sports Grill opening soon in Burlington, Ontario.
About Tin Cup Sports Grill:
Nestled at the south end of Glen Abbey in Oakville, Tin Cup Sports Grill offers savory menu items, a vibrant spirit and something for friends and family for any occasion. Whether you are getting together to catch the game, take in a live band, or simply enjoy a glass of wine, Tin Cup is your neighborhood enjoyment destination.
About ScreenScape:
ScreenScape offers an online service that makes it easy for anyone to create and operate a dynamic screen display in their venue. ScreenScape uses Internetworking principles and social media techniques to build collaborative marketing networks. Compared to traditional Digital Signage and Digital Out-of-Home (DOOH) advertising technologies these networks of interlinking screen displays offer new opportunities for collaboration and commerce and at dramatically reduced costs.
###