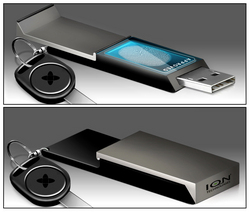 Scotts Valley, CA (PRWEB) April 28, 2009 -
Ennova Direct Corporation (DBA ION Technologies) announced today that the USPTO recently awarded the company's founders (Paul Regen and Peter Garrett) another USB Flash Drive patent - US 7,462,044. This new USB flash drive (shown on right) has unique patented features including a new type of retractable USB connector with a built-in cover that protects the flash drive's OLED screen. The OLED screen comprises an integrated biometric fingerprint scanner which changes color to indicate the success or failure of a match of the user's stored fingerprint. The OLED screen is also an interactive interface that allows the user to select specific files and initiate specific functions.
"With USB flash drive memory capacities now reaching 64GB and higher, user's are now utilizing their USB flash drives as full external backup drives, making it even more important for users to secure the large amounts of personal data they are storing on their USB flash drives," according to Peter Garrett, Executive VP of Ennova Direct. "To that end, we incorporated a biometric fingerprint scanner function into the design of our new Patented Retractable USB flash drive, while keeping with the popular theme of our signature retractable USB connector. We paid special attention to the design of the retractable USB connector, adding an integrated cover that when closed protects the USB connector and OLED screen-biometric fingerprint scanner at the same time."
Ennova Direct expects to launch their new patented retractable biometric USB flash drive under their ION Technologies™ brand in Q1, 2010.
Ennova Direct's Growing USB Flash Drive and MP3 Player Patent Portfolio:
Ennova Direct launched its first retractable USB flash drive, called the Flashlite™ USB Datadrive after filing their first USB flash drive patent, US 6,979,210, which issued in 2005. This USB flash drive was the first USB flash drive to incorporate a retractable USB connector and a built-in LED flashlight. The Flashlite™ also had the first integrated flex¬ible cap which covered the retractable USB connector when not in-use, keeping the con¬nector free of foreign contami¬nants.
Ennova Direct expanded its USB Flash Drive and MP3 player patent portfolio in 2004 when it filed the worlds first patent for a wireless Bluetooth™ compatible USB flash drive with integrated MP3 player, for the purpose of wirelessly trans¬mitting MP3 mu¬sic to a pair of independent wireless speakers (a headset) that could be worn on a pair of sunglasses or an optional behind-the-head band; the patent, US 7,040,425, issued in 2006. In 2005 Ennova Direct continued to add to its USB flash drive and MP3 Player patent portfolio, filing another patent, US 7,090,515, which also issued in 2006. Collectively, Ennova Direct has four issued US patents (US 6,979,210, US 7,040,425, US 7,090,515, & US 7,462,044) and four additional US patents pending (two published applications, US 2006/240,692 & US 2008/050,952, and two unpublished applications 12/193,383 & 12/193,402) within its USB Flash Drive and MP3 Player Patent Portfolio. As an up and coming Consumer Electronics Product Development Company, Ennova Direct will continue to introduce new and exciting patented consumer products to the market.
About Ennova Direct Inc
Ennova Direct Inc, (http://www.ennovadirect.com) was founded in 2003 by Paul Regen and Peter Garrett, and is located at the northern end of the Monterey Bay, in Scotts Valley, CA. Ennova Direct invents, develops, and markets new consumer technology products under its consumer brands. The company's founders have a combined experience of over thirty years in consumer product design, development and manufacturing. Ennova has created a host of patented consumer product technologies; with their core product development direction focused on creating new consumer electronic products, ranging from general lifestyle products for the home and office, to new creative computer peripheral technologies.
###