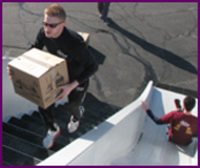 We strive to show the public that we have the most capable and talented employees in the industry
Somerville, MA (PRWEB) April 28, 2009
Gentle Giant Moving Company, (http://www.gentlegiant.com), an award winning moving and storage company based in Massachusetts with locations in seven additional states, today announced its new marketing and recruiting initiative called The Gentle Giant Challenge (http://www.thegentlegiantchallenge.com).
The new program features a unique athletic training apparatus called Speedstairs that combines a portable set of stairs and a slide. Originally designed as an effective way to condition competitive athletes, the Speedstairs has been repurposed by Gentle Giant as a way to demonstrate the speed and ability of its movers and attract both mover candidates who would enjoy the physical work and competitive culture that defines the company, and customers who appreciate these characteristics in a professional mover.
The company has conducted recruiting events at its Somerville, Mass. headquarters utilizing the Gentle Giant Challenge, and has brought the Speedstairs to area community events where the public can use it for fun while meeting Gentle Giant employees and getting a glimpse into the life of a mover. For those who want to test themselves or pursue a job with the company, the Gentle Giant Challenge consists of a timed series of trips up and down the Speedstairs. Gentle Giant routinely assess whether a candidate has the physical capability to handle the job of mover. Also, new hires in the Greater metro Boston area traditionally "run the stadium" as a rite of passage, in which founder and CEO Larry O'Toole leads new recruits on a timed climb up and down the 37 sections of stands at Harvard Stadium. The Gentle Giant Challenge combines the assessment of ability with the symbolism of the stadium runs.
"We strive to show the public that we have the most capable and talented employees in the industry," said Gentle Giant President and CEO Larry O'Toole. "Running the Gentle Giant Challenge is a fun way to demonstrate our strengths to everyone and let prospective mover candidates know what we're all about."
Gentle Giant has included photos and video footage of employees doing the Gentle Giant Challenge online at http://www.thegentlegiantchallenge.com. Upcoming Gentle Giant recruiting events and community events that will include the Gentle Giant Challenge are listed at http://www.gentlegiant.com/ggchallengeschedule.php.
About Gentle Giant Moving Company, Inc.
Founded in 1980 and headquartered in Somerville, Massachusetts, Gentle Giant is a premier residential and commercial mover, offering local, interstate, and international service. Gentle Giant offers storage facilities and dispatches crews from its seventeen offices in Massachusetts, New York, New Hampshire, North Carolina, Rhode Island, Virginia, Washington, DC, and Washington state. Named one of the Boston Globe 100's Top Places to Work in 2008, Boston Business Journal's Best Places to Work in Massachusetts in 2004, 2005, and 2006, winner of the 2006 International Torch Award for Marketplace Ethics by the Better Business Bureau, winner of the Better Business Bureau's Torch Award for Excellence in 2002, 2003, 2005 and 2008, nine-time winner of Boston Magazine's "Best of Boston," six-time winner of The Improper Bostonian's "Boston's Best Moving Company" award, seven-time winner of the Angie's List "Super Service" award, and 2007 Top Small Workplaces award from the Wall Street Journal and Winning Workplaces, the company's services include craning, piano moving, complete packing and unpacking services, furniture and art restoration and conservation, and other related services. For more information, please call (617) 661-3333 or visit the company online at http://www.gentlegiant.com.
###