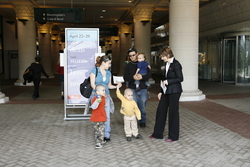 Westfield shoppers can 'shop smart' armed with money-saving information from fabfinds.
Los Angeles (PRWEB) April 27, 2009
In order to help shoppers during the challenging economic climate, Westfield shopping centers across the US are launching fabfinds, a money-saving program which allows customers to get the best savings deals available from retailers during each shopping trip.
Working hand in hand with national, regional and local retail partners, Westfield will continuously research sales and promotions, some exclusive to Westfield, and deliver the information directly to shoppers, both in the shopping centers and on each center's website.
"We recognize the economic challenges many are facing, and we're committed to supporting our customers by helping them get the most value out of each and every visit to our centers across the country," explains Alan Cohen, executive vice president of marketing and partnership marketing with Westfield. "Westfield shoppers can 'shop smart' armed with money-saving information from fabfinds."
fabfinds is offered at the 55 Westfield centers across the U.S. and can be accessed through individual center web sites and also with weekly in-center brochures. Each week, customers will be able to pick up an updated brochure listing that week's best retailer offers, specials and promotions from prominent in-center displays and from the Westfield Concierge desk.
fabfinds are also available on Westfield.com. Shoppers can browse sales information and special offers for virtually all of the retailers at Westfield Centers. Offers can be sorted by retailer & category and shoppers can even use the website to reserve specific items for pickup. Set with fabfinds information and using the online search tool, customers can save money while shopping at Westfield centers any time.
"We know everyone is busy and looking for ways to save time and money," Cohen adds. "Instituting fabfinds, along with the ability to use Westfield's online search tool, underscores our pledge to deliver the best value and best shopping experience available." fabfinds are powered by iStorez, http://www.istorez.com.
The Westfield Group (ASX: WDC), is an Australian-based company with interests in 119 shopping centers in Australia, New Zealand, the United Kingdom and the United States. In the U.S., the Group has a portfolio of 55 shopping centers that are home to more than 9,000 specialty stores and comprise approximately 63 million square feet of leasable space in California, Connecticut, Florida, Illinois, Indiana, Maryland, Nebraska, New Jersey, New York, North Carolina, Ohio and Washington.
###