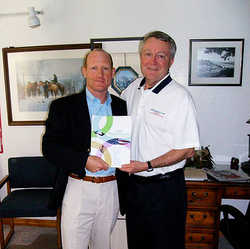 Dr. Outcalt built a wonderful and highly respected business over the last 30 years and we are both fortunate and privileged to have this opportunity to continue his tradition
Capitola, Calif. (PRWEB) April 28, 2009
Fisher Vista, LLC, owner of HRmarketer.com, the premier marketing software and services firm in the human resources industry, has acquired Outcalt & Associates, Inc., the owner of HRVendors.com and the HR Vendor Phonebook and Directory.
Fisher Vista will acquire all stock of Florida-based Outcalt & Associates in an all-cash transaction. HRVendors.com and the HR Vendor Phonebook will be merged into HRmarketer.com's full-service menu of services and technology; however, both will retain their current product names. The phonebook is considered the foremost directory of human resource and employee benefits vendors, with more than 4,500 vendors listed in the 2009 edition.
Acquiring the Phonebook and web-based, lead-referral service HRVendors.com boosts HRmarketer.com's ability to help its clients reach HR professionals and decision-makers via web sites, print media and e-mail--as well as enabling HR vendors to dramatically increase their online visibility, web site traffic and sales leads.
Dr. Joe Outcalt, founder and president of Outcalt & Associates, will be retained by Fisher Vista to assist in managing the business.
"Dr. Outcalt built a wonderful and highly respected business over the last 30 years and we are both fortunate and privileged to have this opportunity to continue his tradition," said Mark Willaman, Fisher Vista founder and president. "This acquisition strengthens our position as the 'go-to' marketing firm in the HR industry. Whenever the economy and human resource marketplace returns to more robust growth, HRmarketer.com will be stronger and better-positioned as a leader in the industry."
"After thirty years of service in the personnel/human resource industry, I'm excited to see the next generation of HR professionals move a proven system forward for the benefit of all," said Dr. Outcalt.
About Fisher Vista, LLC
Fisher Vista, LLC, is a marketing and information services firm focusing on the human resources and healthcare industries. HRmarketer.com, the company's flagship application, is the largest online marketing and PR service in the human capital industry. A similar service, SeniorCareMarketer.com, was introduced to the healthcare market in 2009. Both help companies get noticed and get sales leads through increased publicity, website traffic and improved search engine rankings.
About Outcalt & Associates, Inc.
Headquartered in Florida, Outcalt & Associates, Inc., has published guides and directories since 1969. Dr. Joe Outcalt, publisher of the HRVendors.com Phonebook & Cross Reference Directory, has worked extensively with HR professionals for over three decades.
Media Contact:
Elrond Lawrence, Fisher Vista, LLC
831.757.9100
elawrence(a)fishervista.com
This press release was distributed through eMediawire by Human Resources Marketer (HR Marketer: http://www.HRmarketer.com) on behalf of the company listed above.
###