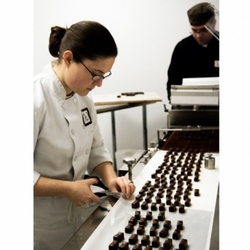 Newton, MA (PRWEB) April 29, 2009
Chocolate.com makes shopping for Mother's Day easy with selections of gourmet chocolates from vendors like Chocolaterie Wanders of Manassas, Virginia, a Chocolate.com vendor since May 2007.
Chocolaterie Wanders has been making world-class chocolates since 1798, based on the recipes of founder Wilhelm Wanders. Chocolaterie Wanders produces its chocolate by hand, including the mixing, pouring, cutting, piping, and enrobing of ganaches, and the final decoration and adornment of each truffle.
Chocolaterie Wanders uses only wholesome, natural ingredients: pure cocoa butter (no additional fats or vegetable oil), fresh fruit purees and carefully selected herbs and spices. No preservatives, artificial flavorings or concentrates.
Grande Gift Box Assortment
Grande Custom Wooden Gift Box A stunning, handmade mahogany-finished keepsake box holds 48 signature artisan confections, finished with a custom engraved brass plaque. 48 pieces, $95.00.
Grande Gift Box Assortment Features 24 confections from the Chcolaterie Wanders collection. Handsomely packed in a matte brown box and tied with a satin ribbon. 24 pieces, $30.
About Chocolate.com
Chocolate.com is the world's largest chocolate marketplace, providing thousands of chocolate makers the online platform and tools necessary to sell their own products globally, and to drop ship, market, and generate revenue from other unique chocolate.com best selling products. Chocolate.com offers consumers, corporate gift and bulk buyers thousands of gourmet and specialty chocolate items to choose from. Chocolate.com features its private line of fully customizable, premium chocolate lollipops, business cards, trading cards, and medallions printed with edible logos and images, perfect for parties, events and promotions. read the Chocolate.com blog (chocolatemonthclub.blogspot.com).
###