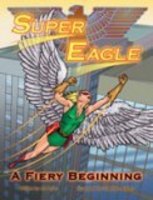 Los Angeles, CA (PRWEB) April 29, 2009
-Super Eagle shows her endowed Eagle-like powers.
Super Eagle tells the story of a young woman who has been endowed with eagle-like powers due one of her father's experiments. The two of them realize that they must keep her abilities secret, and use them to help others. During a visit to Central America, she learns of a plot to destroy much of the coastline, all in the name of profit, and to hasten Global Warming! Together with her father, and a few other friends she makes along the way, they work to stop the plot and protect the environment and citizens of the area.
###