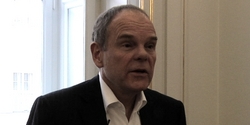 The Internet is changing from being a platform for the presentation of content to becoming a platform for computation
San Francisco, CA (PRWEB) April 28, 2009
Don Tapscott, renowned business strategist, says the Web is becoming an important tool for innovation as more institutions recognize its profound potential to connect worldwide communities of problem solvers. He sees social networking evolving into social production, impacting the way society creates goods and services and the way corporations operate.
A video interview with Tapscott discussing the Web's impact on society is featured on IdeasProject, a website developed by Nokia. IdeasProject is an online "information space" that provides a new way to interact with thought leaders and their big ideas about the future of connected communications. For more on Tapscott's big idea, visit:
http://www.ideasproject.com/idea_person.webui?id=2919
"The Internet is changing from being a platform for the presentation of content to becoming a platform for computation," said Tapscott. "The Web is becoming a giant programmable computer and this means people can now collaborate in a manner that is evolving from social networking into social production."
"As the Web develops, so will society's use of it," said Valerie Buckingham, director of technology marketing, Nokia. "Tapscott makes us aware of the fundamentally new ways individuals and businesses are using the Web to collaborate and innovate. IdeasProject is an effort to surface big ideas about the future of communications, and we look forward to featuring more of Tapscott's thoughts on the Web's impact on society."
Over the next month, editors from the IdeasProject are featuring their favorite ideas as submitted by the public and sending a Nokia N95 to the 'Big Thinker' who contributed. Share and submit your 'Big Idea' with the world by visiting http://master.ideasproject.com/userideasubmit.webui
About Don Tapscott
Don Tapscott, a business executive and an internationally recognized author, consultant and speaker based in Toronto, specializes in business strategy, organizational transformation and the role of technology in business and society. Tapscott is chairman of the business strategy think tank, nGenera. Author or co-author of numerous widely read books on the application of technology in business and society, his most recent book, Wikinomics: How Mass Collaboration Changes Everything (co-authored with Anthony Williams and published in 2006) is also a widely visited website.
His popular 1997 book Growing Up Digital: The Rise of the Net Generation explained the business and social impact of the first generation to come of age in the digital age. Digital Economy: Promise and Peril In The Age of Networked Intelligence, published in 1995, was one of the first books to describe how the Internet would change business and society. Tapscott is probably best known for his 1992 book, Paradigm Shift: The New Promise of Information Technology. Tapscott holds a B.Sc. in Psychology and Statistics and an M.Ed. specializing in Research Methodology.
About IdeasProject
IdeasProject, a project of Nokia hosted at http://www.ideasproject.com, brings together the most visionary and influential "big thinkers" to contemplate the big ideas that matter most to the future of communications. It is a new kind of conversation platform aimed at uncovering the connections between these thought leaders and their disruptive ideas. Explore the IdeasProject website, subscribe to its RSS feed, join its Twitter feed (IdeasProject), and come back often to learn about great new big ideas as they break.
About Nokia
Nokia is the world leader in mobility, driving the transformation and growth of the converging Internet and communications industries. We make a wide range of mobile devices with services and software that enable people to experience music, navigation, video, television, imaging, games, business mobility and more. Developing and growing our offering of consumer Internet services, as well as our enterprise solutions and software, is a key area of focus. We also provide equipment, solutions and services for communications networks through Nokia Siemens Networks.
###