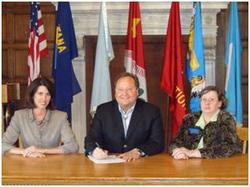 Consumers desperately need legislated debt-relief options
Houston, TX (Vocus) April 29, 2009
The United States Organizations for Bankruptcy Alternatives (USOBA), a trade association advocating for consumer protection in the debt settlement industry, has been instrumental in designing a bill to regulate debt settlement in the State of Montana.
Introduced by Representative Deborah Kottel (D-Great Falls), Montana House Bill 318 is the first act of legislation passed in Montana that will regulate the debt settlement industry.
"Montana has jumped ahead of the curve by enacting consumer protective regulations for the debt settlement industry," USOBA Executive Director Jenna Keehnen said. "We were honored to have been a part of that legislative process."
An industry leader in protecting consumers, USOBA made an impressive contribution to H.B. 318 by working diligently with legislators and key industry participants in a combined effort to enact a new law that would assure consumer protection for Montana residents seeking debt settlement.
"Consumers desperately need legislated debt-relief options," USOBA Legislative Chair Heather Carmichael said. "Debt settlement gives consumers overwhelmed with unsecured debt a chance to avoid bankruptcy and, in effect, start over by practicing long-term saving habits."
Kottel invited USOBA to participate with her working group to amend the bill to include more consumer protection provisions, and to modify other provisions that would have prevented consumers from choosing debt settlement when faced with financial hardship.
Working together, USOBA, The Association of Settlement Companies (TASC), Consumer Credit Counseling Service of Montana (CCCS) and Sponsor Kottel joined forces in this unprecedented effort. The collaborative end product is a comprehensive bill that maintains the level of consumer protection sought by the parties and fairly addresses the concerns of the debt settlement industry.
About USOBA
USOBA is dedicated to providing its member companies with important, industry related information, including compliance requirements, as well as advocating on behalf of its membership for fair and appropriate industry regulations that maintain the utmost in consumer protection. USOBA members are provided a USOBA State Law Summary guide, the only one of its kind in the industry, to better ensure and promote national compliance. This guide contains the laws and regulations, state by state, and has been reviewed by regulators and legislators. For further information, please visit http://www.usoba.org.
###