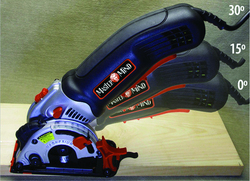 Dodgeville, WI (PRWEB) April 30, 2009
SMC-Innovations introduces the MasterMind Compact Precision 3 inch Circular Saw that is designed to provide powerful lightweight cutting for a variety of applications including flooring, plumbing, electrical, finishing, tile work, and carpentry.
The MasterMind Compact Precision 3-inch Circular Saw is a lightweight easy-to-control circular saw that delivers quick precise cuts in most building materials up to 7/8 inches, and in tile up to 3/8 inches. The saw features a unique plunge action capability with adjustable depth control, allowing for cutting when the work piece is not in an "overhang position," such as directly on top of sub-flooring, or for cuts such as you'd make for a flooring vent. Its powerful 2,800 RPM motor easily and quickly cuts material such as hardwood and laminate flooring, drywall, fiberglass, vinyl, plywood, and tile. The three position adjustable handle is ergonomically designed to accommodate the work angle for virtually any application, providing superior comfort and balance for easily controlled cuts. An easy-to-read cut length and depth indicators, along with its unique SmartTrack™ system, provides LED lighting in dimly lit applications, or laser guidance for greater cut accuracy. The tool also comes with a vacuum hose adapter for optional dust extraction.
The saw comes with a rugged storage case that includes:

3"circular saw
One carbide-tipped blade
Edge guide
Two non-scratch base covers
Vac hose adapter
Two hex wrenches
Ceramic/tile cutting blade sold separately.
The MSRP of the SMC Innovations MasterMind 3" Precision Circular Saw is $119 and is available wherever fine quality hardware and power tools are sold.
MasterMind Tools is a growing line of unique, innovative, patented power and hand tools designed to be smart and simple-to-use. The line currently consists of one handed self-adjusting Auto-Fit Pliers™, Flip-to-Fit™ folding adjustable wrench, Lock-on-and-Hold™ Hex Nut Driver, Grab-and-Grip™ Ratchet Wrench, Time-Saver Ratchet™, Auto-Fit FastJaw™ Pliers, magnetic nail assistant Thumbnail™, and tape measuring accessories QuickClip™ and SmartMark™.
SMC Innovations (http://www.smc-innovations.com or http://www.mastermindtools.biz)
SMC Innovations is a Division of SMC, Ltd, a long respected OEM manufacturer for major brand power tools and accessory suppliers. SMC Innovations was formed in 2002 to rapidly develop, manufacture, market and distribute its own brand of innovative consumer products. SMC Ltd., an ISO 9002 certified manufacturer, was founded in 1988 and operates 14 manufacturing / distribution facilities throughout the world.
###