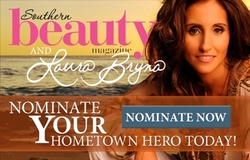 Our magazine tries to emphasize the inner beauty as much as what people see on the outside. Likewise, we feel that the special hometown heroes out there carry their goodness inside and out - for them, it's all about taking action.
Los Angeles, CA (PRWEB) April 29, 2009
Laura Bryna always appreciated the hard work and bravery that members of the U.S. military brought to their job. She discovered hundreds of these men and women after she co-wrote the single 'Hometown Heroes' and had it "adopted" by the Air National Guard for their campaign. Now Bryna is embarking on another mission - to find and honor five unsung 'Hometown Heroes' through a nationwide search created by Bryna and Southern Beauty magazine.
America's Search for 'Hometown Heroes' is a joint effort between Bryna, the petite brunette with the powerhouse vocals whose CD - 'Trying to be Me' - debuted in 2008, and Southern Beauty, the national women's beauty and lifestyle magazine now in its second year.
About The Contest:
By logging on to http://www.southernbeautymag.com or http://www.laurabryna.com, men and women may nominate the hero of their choice by filling out a brief questionnaire or creating a short video that can be uploaded to a central site where fans can weigh in. The contest runs through June 15 with winners announced July 4. Five winners will receive a round trip flight to L.A. along with hotel accommodations and invitation to a special 'Hometown Heroes' event and Laura Bryna concert August 10 at the famous House of Blues on the Sunset Strip. Attending will be members of the Air Guard along with some special Women of the Air Guard who are to be featured (along with Bryna) in the summer issue of Southern Beauty.
Bryna has been singing about the hometown heroes of the Air Guard since the single and video were released late last year - both reflect the civilian and military sides of such men and women.
"Recording 'Hometown Heroes' and then getting to see how these brave men and women sacrifice really made me appreciate what they do," says Bryna. "This search is a way for us to showcase five people who selflessly give back in amazing ways. There are everyday heroes in America doing wonderful things that often go unnoticed. They could be anyone, from an airline pilot or a firefighter to a teacher, physician, scientist, or volunteer for some worthy cause. We thought this would be a way to honor those who truly make a difference."
"Most of us can think of several people we know that we'd consider hometown heroes," adds Shannon Lindsay, founder and publisher of Southern Beauty. "Our magazine tries to emphasize the inner beauty as much as what people see on the outside. Likewise, we feel that the special hometown heroes out there carry their goodness inside and out - for them, it's all about taking action."
About Southern Beauty Magazine:
Since its launch in Spring 2008, Southern Beauty has delivered expert advice and the latest product information, all told through the eyes of seasoned beauty insiders. The magazine, targeted toward women ages 25 - 49, has a readership of 500,000, including newsstand and subscriptions, and has earned a place among women and the cosmetics industry as a trusted source for beauty information. Southern Beauty addresses the complete needs of their readers through their Face, Hair, Body and Soul sections. The magazine is published six times a year and boasts covers and stories featuring such celebrities as LeAnn Rimes, Nancy O'Dell, Reese Witherspoon and Jennifer Love Hewitt.
About Laura Bryna:
Considered a 'southern beauty,' Laura Bryna is a country music recording artist whose debut album, "Trying to Be Me," released in January of 2008, continues to receive raves. After launching her CD, Bryna completed a 45-city tour with Grammy winning legend Clint Black, and has also opened for such acts as Sugarland, Carrie Underwood and Taylor Swift. Bryna was selected to be the face and voice of the Air Guard's national ad campaign. In this role, she co-wrote and performs the song "Hometown Heroes" for the Air Guard, as a tribute to the men and women who aid, assist and protect those in need during domestic and international crisis. In addition to being seen and heard on TV and Radio ads around the country, Bryna makes special appearances on behalf of the Air Guard, including performances at concerts and events coast to coast. She also earned her wings with the Air Guard by participating in an F-16 ride and an air refueling mission.
House of Blues (http://www.houseofblues.com/venues/clubvenues/sunsetstrip):
House of Blues Sunset Strip opened in 1994 and is located in the heart of West Hollywood. This location is home to unique pieces of art and architecture, such as work by Alan Sainte James Boudrot and our Jake and Elwood movable bars. The Sunset Strip venue is covered in tin from a gin mill that was just 500 feet away from the Delta crossroads -- the mystical field where Robert Johnson created his famous partnership with the Devil for his soul. Notable acts that have played House of Blues Sunset Strip include the last live performance by Tupac Shakur and Prince with Maceo Parker. In keeping with tradition, the House of Blues Sunset Strip displays the "Crazy Quilt" and keeps a metal box of mud from the Delta Mississippi underneath its stage.
###