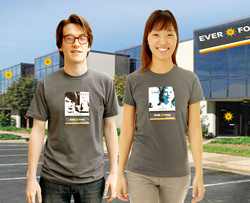 Brooklyn, NY (Vocus) April 29, 2009 -
nopooh's new satiric take on corporate promotional t-shirts,TRUST and CARE, feature everything the real ones do; an innocuous brand name, an overreaching mission statement and just the right touch of corporate doublespeak. These cool t-shirts make the perfect gift for the grad who has everything - but a job.
These nopooh t-shirts will make you look like a gainfully employed member of the fictitious 'Everfore' empire while you're sitting at home reading back issues of the Silver Surfer. To help take the sting out of the current employment environment, nopooh will be making a special offer. nopooh's CARE and TRUST t-shirts, which normally retail for $30. will be specially priced at $20.for May and June only (includes shipping within the continental USA) . Act quickly - supplies are limited. As always, complimentary stickers are included with each purchase.
nopooh is the collaborative work of artist, Rob Tanner, and fashion photographer, Mark Babushkin. Launched in September 2008, nopooh, (which has successfully repaid all of it's TARP funding) designs individually hand-screened tee shirts featuring bold, graphic images. Avoiding partisan issue and humor driven themes, Rob & Mark's designs embrace irony and ambiguity with a pop sensibility. nopooh's shirts are intended to entice the eye and engage the mind.
nopooh's entire t-shirt line including CARE and TRUST are available online in both men and women's styles at http://www.nopooh.com/.
###