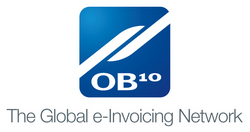 Thanks to our ANY-TO-ANY DATA FORMATTING we can handle any type of invoice format - without requiring our customers or their suppliers to install additional hardware or software
Atlanta (PRWEB) April 29, 2009
Lufthansa has announced that it is implementing electronic invoicing with OB10, the world's leading e-Invoicing network. The objective is to use the OB10 service to generate tax-compliant invoices, thereby reducing invoice management costs both in Germany and internationally.
Although the majority of invoices at Lufthansa in Germany are already received via EDI (with the accompanying summary invoice) thousands of paper invoices for goods and services still arrive at Lufthansa every year. The manual processes for managing incoming invoices are not only time-consuming and costly, but also prone to error. All of this will now come to an end. As part of the new e-Invoicing project, which will initially be implemented in Germany and eight other countries including the US, the UK and Canada, the majority of invoices will be processed completely in electronic form using OB10.
Lufthansa equips itself for the future
In addition to the cost savings e-Invoicing delivers, Lufthansa expects the cooperation with OB10 to lead to considerable process simplification. Over the medium term, the entire Financial Supply Chain is to be moved to an electronic process. Additional advantages of the e-Invoicing system include faster transmission of invoices and significantly improved data quality as invoice information is fed directly into the ERP system and its associated archive. Lufthansa will also benefit from higher productivity in its invoice processing due to the automated validation of invoice data. Furthermore, pure electronic invoicing will greatly reduce the number of invoices from suppliers that cannot be allocated, and therefore significantly reduce the accompanying queries and complaints regarding payment. e-Invoicing also has advantages for suppliers as they not only profit from reduced process costs, but also the cost and time delays associated with posting invoices.
"OB10 is an international operation - like Lufthansa - and fulfils our requirements for electronic invoice processing in the countries that are most important to us," says Martin Steuernagel, Department Manager for External Accounting at Deutsche Lufthansa AG. "That makes OB10 the ideal partner to simplify many of our more complex external invoicing procedures with e-Invoicing. What really tipped the scales for OB10, however, was the supplier enrolment programme, which will ensure that our international suppliers and partners will also be promptly connected to the OB10 network. Nobody else offers this type of programme - in seven different languages - and it will help us save valuable time and resources as we implement the overall project."
"Thanks to our ANY-TO-ANY DATA FORMATTING we can handle any type of invoice format - without requiring our customers or their suppliers to install additional hardware or software," adds Jamie Gunn, CEO, OB10. "We are proud that with Deutsche Lufthansa AG, we are working with another client who wants to encourage their suppliers to become part of our global network."
About OB10
OB10 (http://www.OB10.com) is the leading global B2B e-Invoicing network. OB10 simplifies and streamlines the complex invoice-to-pay processes. Neither client organizations nor their suppliers are required to implement any hardware or software, and OB10 is independent of data file formats. OB10 can reduce the cost of paper invoice processing by typically 60 percent and can deliver an ROI in less than a year if the program follows OB10's best practice guidelines. Operational across Europe, North America and Asia, OB10 is compliant with the requirements of VAT, tax and e-Invoicing legislation and receives invoices from suppliers in over 100 countries. To ensure unrivalled and rapid supplier enrollment, each new customer's suppliers are supported by an implementation services team responsible for getting them up and running on the OB10 network.
Customers include: Agilent Technologies, Barclays, BP, Cargill, DHL, DSG International, Eli Lilly & Company, Fisher Scientific, General Motors, GlaxoSmithKline, Hewlett Packard, IBM, Kellogg's, LogicaCMG, Mohawk Industries, Norwich Union, SaraLee, Shaw Industries and Steria.
###