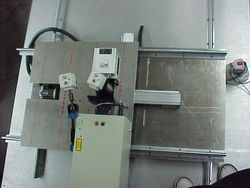 Gilbert, AZ (PRWEB) April 29, 2009
Worldwide Laser presents new Turn Key Nd: YAG Laser Systems that can have various options including vision systems, x-y tables, vibratory bowl part feeders, rotary fixtures, safety enclosures, and custom laser controller software.
Having trouble reading this newsletter?
Try our online version http://www.wlsc.com/laser-marking-etching/blast/12/
The Systems Division of WLSC highlights complete Turn Key Laser Systems with vision, x-y tables, vibratory bowl for parts feeding, and rotary fixture for holding and rotating parts while laser marking, class I CDRH and OSHA highest laser safety enclosures feature air curtains to prevent doors from closing and causing injury to operators or damage to parts, one system includes a joy stick allowing the operator to 'fine tune' part location based on feed back from the vision system. Let the laser system experts at Worldwide Laser systems division design and build a complete laser system for your operations. Visit http://www.wlsc.com or contact us at info@wlsc.com or 480.892.8566 option 5.
YAG diode & enclosure Dual vision with x-y table Rotary Fixture
This system is an LP9050 50 Watt Nd:YAG diode laser 1064nm, the system includes a galvo head for laser beam delivery, Worldwide Laser controller software, computer system, fume extraction system, and class I CDRH enclosure with laser safe view window and dual interlocks. This laser marking station is designed with manual open close door and for operator placement of the part or tray of parts for laser marking. The laser marking area can be from 2.0" x 2.0" at the smallest to approximately 10" x 10". The smallest laser beam spot size achievable with standard optics is approximately 20 microns (micrometers). This laser marking system from Worldwide Laser has the added feature of a bar code reader which allows the system operator to scan travelers or paperwork which can then send the correct marking information to the laser such as serial number or part numbers and/or direct the laser system to open and execute the proper laser marking file for the part. Worldwide Laser program engineers can custom design many different options for information input to the laser marking stations. The system can also be automated to increase speed and production capacity depending on your company requirements. At Worldwide Laser we know lasers! Let the laser system experts at Worldwide Laser design and build the proper laser station for your company requirements.
This complete turn key laser system from Worldwide Laser consists of a 100w Nd:YAG diode laser, the LP9100D, 10mm galvo scan head, Worldwide Laser custom laser controller software an x-y table with 20" of travel on each access driven by servo motors with accuracy and repeatability of +/- 2.5 microns also included are two vision systems - one vision camera provides thru the lens (same focus lens as the laser) for exact real world measurement the other camera mounted to the side of the laser head provides an overall field of view showing the entire laser marking area. The laser head and rail include an automatic z- access with up to 20" of vertical travel, the custom Worldwide Laser software provides for automatic movement of the laser head to the correct focus distance for the part being laser marked or laser cut, the focus distance is controlled by parameters in the laser marking software so when the laser marking file is open the correct focus distance is automatically achieved. The combination of the X-Y table and servo motors (designed to accommodate parts of up to 100lbs in weight) automatic z-access, and dual camera-vision system allows for fast, repeatable, reliable laser marking and cutting of parts with minimum operator interface. The system has an enclosure with automatic open/close doors and an air curtain that will prevent the door from closing on and causing injury to operators or damage to parts, laser safe viewing ports are provided for operators to view and control laser marking and laser cutting operations. Finally this complete laser system from Worldwide Laser has a joystick allowing for fine precision movements of the x-y table by an operator if the thru lens vision system demands a final adjustment prior to laser marking or laser cutting. Our system engineers are experts at building complete laser systems for your operations and are waiting to help with all your laser system requirements. Complete laser systems with vision systems built by Worldwide Laser is available just let us know if you would like to view some of the laser systems we have designed and built.
This complete laser system from Worldwide Laser consists of an Nd:YAG 50 watt laser the LP9050D, 10mm galvo scan head, Worldwide Laser custom laser controller software and rotary fixture with adjustable gripper for different size parts. The system allows for continuous marking all the way around a cylindrical part or for laser marking an area of a part and rotating the part for laser marking another area, depending on production requirements. This system is designed for manual loading of the part by an operator, and includes a full class I CDRH and OSHA compliant enclosure for the highest level of laser safety. The laser head and rail are mounted on a z-access so they can be raised and lowered to proper focus distance as different size parts are placed in the enclosure for laser marking. The z-access can be designed as a manually operated electric devise or automated which provides movement to proper location based on the laser marking file, the enclosure is complete with a laser safe operator view window and automatic open close door (controlled with dual palm or finger switches) the door also has a light curtain to prevent improper closing and damage to parts or injury to operators. Contact the laser system experts at WLSC and let us work with you to design and build your laser marking system.
Trouble reading? http://www.wlsc.com/laser-marking-etching/blast/12/
About Worldwide Laser
Worldwide Laser headquartered in Gilbert, Arizona and founded in July of 1986 builds laser cutting, laser marking, and laser etching systems. Types of systems are Co2, YAG, Fiber and UV. Our systems have wavelengths of 9300 and 10600 nm for Co2 1064 nm for YAG 1067 nm for fiber and 355 nm for UV.
Our systems can be either galvo head or fixed beam laser systems and they start at 10 watts up to 500 watts and can cut, mark and etch almost any product.
Worldwide Laser is one of the only remaining manufacturers of T.E.A. mask Co2 lasers, our product line of LP2000 series which can be driven either by spark gaps or thyratrons. In the mask T.E.A. business Worldwide Laser is one of the leading suppliers for new and refurbished parts for beam delivery components for Lumonics Laser Mark Series and also for refurbished Lumonics Laser Mark lasers. Our Co2 lasers can be sealed beam or T.E.A. Co2 which can be utilized for high speed and high quality laser marking or laser cutting.
Worldwide Laser provides the laser for integrations to existing equipment/production lines or can design and build a complete turn key laser system to meet your company requirements
Worldwide Laser has customers and offices in 10 countries in addition to the United States and a full range of product handling systems with technical support staff and installation engineers.
Worldwide Laser offers custom laser controller software & laser consulting Worldwide Laser offers windows based laser controller software for our Co2, YAG, Fiber & UV laser systems. For more information about Worldwide Laser call 480.892.8566 option 5 or visit our web site http://www.wlsc.com
###