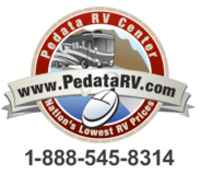 Always consult a tax adviser, financial expert or accountant to ensure your eligibility
(Vocus) April 30, 2009
With economic times tough, the benefits of owning a motorhome continue to increase with federal economic credit and stimulus packages as well as tax deductions. Environmentally friendly solutions such as solar panels are rewarded with tax credits as well as costs saved on fueling generators.
RV loans can qualify as tax deductions under the IRS code section 280A(f)(1) as long as the RV can pass as a 'dwelling unit.' A dwelling unit is defined as having basic sleeping, cooking and toilet facilities. Pop-up campers that have a portable stove and port-o-potty would technically qualify. The RV must be used as security for the loan. As such, the loan becomes deductible as a second home mortgage interest.
For new RV owners, a provision in the stimulus bill offers a deduction for sales or excise taxes on the first $49,500 of any new RV or motor home purchase. Savings would vary state to state, but on a $40,000 RV, state taxes can equal $2,450 or more.
The solar powered tax credit can cut 30% off the purchase price of equipment for solar powered RV installation, not to mention the savings cost of no longer needing a generator. RVs qualify as a second home and are thus eligible for the same solar power tax credits as a traditional residence.
"Always consult a tax adviser, financial expert or accountant to ensure your eligibility," says Clint Ethington of Pedata RV.
For More Information:
For more information on Pedata RV Center or current trends in the RV industry contact Clint Ethington, General Manager, at clint (at) pedatarvcenter (dot) com or by phone at: 1-888-545-8314 or 520-807-0900. Or visit Pedata RV Center online at http://www.pedatarvcenter.com.
Contact:
Clint Ethington
Pedata RV Center
Phone: 1-888-545-8314 or 520-807-0900
###