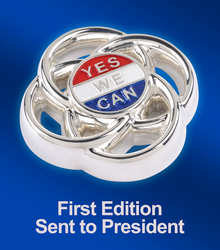 YES I CAN to the challenge of YES WE CAN.
Sarasota, FL (PRWEB) April 29, 2009
In celebration of President Obama's 100th day in office a special first edition artist's proof Unity Symbol has been made as a desk accessory paperweight in solid sterling silver and sent to President Obama along with the first lapel pins. The Unity Symbol was recently created by Paul Dangler to be a visually unique icon with the intention of UNITING AMERICANS.
The Unity Symbol celebrates the diversity, continuity and unity that are the spirit of America today. The design uses circles symbolically interlocking with each other demonstrating individuality and more importantly a coming together in strength and unity for the common good. The endless chain of circles demonstrates the continuity that we enjoy in the United States. The core portrays traditional patriotic values and binds us all together in this unity.
The Unity symbol is not about a campaign slogan. It becomes a badge of honor to unite all Americans that are interested in moving forward in the unity of today and transcending our differences of the past. The story and meaning of the unity symbol can apply to family, business, finance, education, patriotism and all aspects of our lives. It welcomes all who will answer "YES I CAN to the challenge of YES WE CAN."
The emotion and excitement of the Presidential campaign made it clear to Paul that a symbol was needed that would show unity among the army of citizens that now became so inspired. Americans united in harmony and purpose will wear this new Unity Symbol to recognize each other as the new patriots of America.
The lapel pins which can also be worn as pendants or charms make use of a unique magnetic attachment so that it can be worn on any clothing without damage.
###