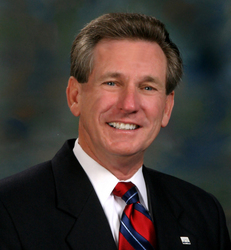 It's an honor to receive this award
Versailles, KY (Vocus) April 29, 2009
The Kentucky Community and Technical College System (KCTCS) is proud to announce KCTCS President Michael B. McCall as the recipient of the 2009 State Community College Director of Distinction award from Phi Theta Kappa.
"It's an honor to receive this award," said Dr. McCall. "Our colleges are transforming the lives of students by providing them what they need now – real opportunity for real people in real time."
Phi Theta Kappa is the largest honor society in American higher education with more than 2 million members and 1,200 chapters located in all 50 of the United States, U.S. territories, British Virgin Islands, Canada, Germany, Marshall Islands, Micronesia, United Arab Emirates and Palau.
The award recognizes the contributions of heads of state community college systems and their outstanding efforts to promote the goals of the honor society. Those goals include: 1) recognizing and encouraging the academic achievement of two-year college students and (2) providing opportunities for individual growth and development through participation in honors, leadership, service and fellowship programming.
Dr. McCall was honored at the Phi Theta Kappa International Convention in Texas on April 17.
Nominations for the award are submitted by a Phi Theta Kappa chapter, chapter advisor or regional coordinator.
For most Kentuckians, higher education begins at KCTCS. Our statewide system of 16 colleges and 67 campuses provides citizens throughout the Commonwealth with a quality education that is both accessible and affordable. For more information, visit http://www.kctcs.edu
###