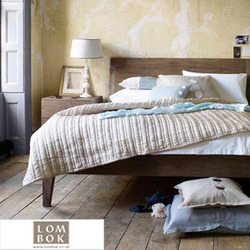 We are reacting to public demand and broadening our offering from our traditional dark Teak look to a lighter more contemporary feel
London, UK (PRWeb UK) April 30, 2009
Renowned dark teak furniture retailer LOMBOK has just launched its first ever light furniture ranges. After 10 years of primarily retailing dark teak furniture, especially wooden beds LOMBOK has broadened its offering, launching three new ranges of light furniture. Whilst retaining the signature Eastern influence, the new collections range from the contemporary to the traditional with a look to fit any home. Founder Alex Creswell Turner says "We are reacting to public demand and broadening our offering from our traditional dark Teak look to a lighter more contemporary feel". Read on below for details about the new ranges.
Eastern elegance - Beijing and Shanghai ranges
The new Beijing and Shanghai Collections have been developed as light versions of the ever popular Canton range. Furniture pieces include the LOMBOK signature four poster wooden beds and a variety of chest of drawers from the tall boy to the smaller chest of three drawers. These ranges retain the signature Eastern design of the Canton, with a heightened sense of modernity. Handmade from hard woods and painted in a white finish for a clean and bright style, perfect for kitchens and open plan living, whilst the Shanghai is a grey tone for a more subtle approach.
Classic contemporary - the Kemala collection
LOMBOK's new Kemala Collection has been launched as an extension to its popular teak ranges. This range is a much lighter teak with a lightly grey washed finish for a more aged and rustic look. Popular designs consist of the glass door dresser, Seba wooden bed and complementing chests of drawers. New styles introduced include the cross leg dining table, low back dining chair, six drawer writing desk and chest of drawers. This launch is expected to have a much broader appeal and will inspire a whole new type of consumer.
For Further information please contact:
Hugo Rawlins - PR & Events Manager hugo(at)lombok(dot)co(dot)uk 020 7751 8629 or Bruna de Souza - PR & Marketing Assistant bruna(at)lombok(dot)co(dot)uk 020 7751 8621 or to download this press release click here
Notes to Editors
LOMBOK is renowned for it's Eastern inspired furniture lighting and accessories. Insisting on top-quality craftsmanship, most designs are exclusive and wherever possible, made using recycled and natural materials. LOMBOK's range of best selling products includes, four poster beds, wooden beds, chests of drawers., cushions, lamp shades, bed quilts and throws. The company was founded in 1998 and now has 19 stores nationwide. Shop online at http://www.lombok.co.uk, call 0870 240 7380 or visit one of our stores nationwide in the UK.
# # #