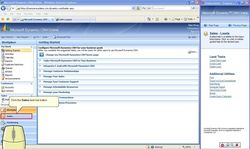 Salt Lake City, UT (PRWEB) April 30, 2009
SHO Guide® by Transcensus of Orem, Utah is featured on MSDN Channel 9 (http://channel9.msdn.com/posts/jodonnell/Transcensus-Interview-and-Demonstration-Deliver-easy-training-with-SHO-Guide/).
SHO Guide is a revolutionary technology that creates interactive software help resources that guide users through completion of tasks in live software applications. This highly-innovative solution addresses the significant challenges associated with software learning and user adoption. Transcensus executives Daniel Higbee (Vice President of Business Development) and Dan Peay (Vice President of Customer and Partner Experience), were recently interviewed by John O'Donnell, Microsoft Dynamics ISV Architect Evangelist, during Convergence 2009 in New Orleans, Louisiana. This interview, along with an overview of the Transcensus SHO Guide solution, is currently featured on MSDN Channel 9.
SHO Guide provides the capability for trainers, instructional designers or users of Dynamics CRM to quickly create step-by-step, guided help resources that interact directly with the graphical user interfaces of software applications to provide an unprecedented user experience. Users can be immediately productive with solutions such as Microsoft Dynamics CRM without formal training. Unlike video or other training resources that require task memorization, users of the innovative SHO Technology TM actually complete tasks in live software applications while they learn, which helps them significantly increase their task completion accuracy and efficiency.
"Convergence 2009 was a great experience for us. Our SHO technology is a fantastic complement to Dynamics CRM, and it is an ideal solution for ISVs, partners and customers who are struggling with how to help users overcome challenging adoption hurdles. It truly stands alone in terms of its ability to provide a highly-effective, guided assistance experience that guarantees a user's ability to complete complex tasks in sophisticated solutions like Microsoft Dynamics CRM. We offer an Alliance Program for Microsoft® Partners who desire to incorporate SHO Guide® into their training and deployment toolset, with the added benefit of improving overall end user adoption while substantially increasing customer satisfaction," said Daniel Higbee.
About Transcensus:
Transcensus, LLC, based in Orem, Utah, is dedicated to the cause of improving software usability through the introduction of a new interactive platform for authoring and delivery of performance support and guided help content. The company's solutions embed learning, user assistance and support content directly in the workflow, enabling an unprecedented level of enhanced usability and contextual learning in software applications. The company develops solutions that will influence virtually every market segment that relies upon software as a critical component of its operational strategy. For more information about Transcensus, visit http://www.transcensus.com.
###