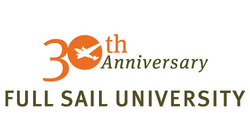 Each student that entered the contest was able to further their academic reach with real world experience in the industry - this time working with a national brand
Winter Park, FL (PRWEB) April 30, 2009
The Orlando Magic (http://www.orlandomagic.com) and Full Sail University (http://www.fullsail.edu) announced the winning teams of a re-branding design contest exclusive to Full Sail students, to develop a new and creative graphics package to be featured at the games throughout the season. Two teams of students were selected for their motion graphics work, which was unveiled last week during the NBA playoffs at the Amway Arena.
The Orlando Magic accepted proposals from Full Sail University student teams representing degree programs including: Digital Arts & Design, Computer Animation, Graphic Design, and Entertainment Business. Students competed to create the text and graphics for the offense and defense, as well as general noise prompts, to play on the Jumbotron to energize fans at the Orlando Magic home games.
The winning teams are comprised of six students including: Dustin Bankord, Juan Colon, Tyler Joynt, Ron Monahan, Jose Ramirez and Jared Sanders. "Each student that entered the contest was able to further their academic reach with real world experience in the industry - this time working with a national brand," said Pete Bandstra, Program Director of Computer Animation and Game Art. "The partnership they have created with the Orlando Magic has added significant professional credits for their portfolios before graduation."
Bill Galbreath, Program Director of Arts and Design, further added, "We are extremely proud of both teams and the great work they put together for the Orlando Magic. It was an incredible opportunity for our students to showcase their skills and talent in support of our home team."
About Full Sail University:
Since 1979, Full Sail University, located outside of Orlando, FL, has been an innovative educational leader for those pursuing careers in the entertainment industry. With over 31,000 alumni, graduate credits include work on OSCAR®, Emmy® and GRAMMY®-winning projects, best-selling video games, and the #1 grossing U.S. concert tours. Full Sail's 190-acre campus and online education platform proudly welcomes over 7,000 students from 50 states and 65 countries.
Full Sail currently offers a total of 20 degree programs including: Associate of Science Degrees offered in Graphic Design, Recording Arts and Show Production & Touring; Bachelor of Science Degrees offered in Computer Animation, Digital Arts & Design, Entertainment Business, Film, Game Art, Game Development, Internet Marketing, Music Business and Web Design & Development; and Master of Science Degrees in Education Media Design & Technology, Game Design, Entertainment Business, and Internet Marketing; and a Master of Fine Art in Media Design.
Full Sail was most recently named the 2008 "School/College of the Year" by the Florida Association of Postsecondary Schools and Colleges. The university has also been previously named: The Harvard of Game Schools by Tips & Tricks Magazine; one of the top three New Media Schools by Shift Magazine (alongside the Massachusetts Institute of Technology and New York University); one of the Top Five Game Degree Programs in the world by Electronic Gaming Monthly; one of the Best Music Programs in the country by Rolling Stone Magazine; one of the Best Music Business Departments in the Schools That Rock: The Rolling Stone College Guide; and one of the Best Film Programs in the country by UNleashed Magazine.
For more information about Full Sail, please visit http://www.fullsail.edu.
###