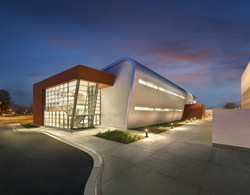 Being recognized by your peers is always a great honor, but what makes these two awards of particular importance is the fact that both were for Higher Education projects, one public and one private
Riverside, CA (Vocus) April 29, 2009
For the second year in a row, LPA Inc. receives recognition from the Inland Chapter of the American Institute of Architects (AIAIC) at their Annual Design Awards ceremony. This year, two education-focused buildings in the Higher Education sphere received top honors.
The American Career College (ACC) Ontario Campus and the Technology Center at the Mt. San Jacinto College Menifee Campus demonstrate architecture that enhances the learning experience. Each facility has sustainable design features -- which also mean a focus on energy and water efficiency.
"Being recognized by your peers is always a great honor, but what makes these two awards of particular importance is the fact that both were for Higher Education projects, one public and one private," explains Dan Heinfeld, President of LPA Inc. "Creating exciting learning environments that are sustainable, is one of the most important jobs we have as designers."
The American Career College in Ontario is a student-centric, multi-million dollar campus housed within a two story, 64,000-square-foot building. Sustainable highlights include natural and healing daylight through skylights and a three-story atrium; water efficiency through a proficient irrigation system with weather monitoring programs and water efficient fixtures; heat island reduction through a cool roof; use of materials that are rapidly renewable with a high recycled content (25-55%); durable finishes with low-odor and/or zero-voc; and stormwater management through a vegetated bio swale, to name a few.
The technology center at Menifee Community College provides much needed space for computer labs, digital classrooms, faculty offices and a 200-seat assembly space. Being in the California high desert, the two-story, 35,000-square-foot building is exposed to strong winds and scorching summer sun. Harsh conditions didn't stop architect Glenn Carels from creating an eye-catching piece of architecture with sweeping curves, protected outdoor spaces and exaggerated ornamental details -- consistent with existing campus buildings, built in 1990.
"In our Higher Education architecture, we design beyond functional requirements so that the end product increases the value of the educational experience for that particular college," finishes Carels, Design Principal at LPA Inc. "We partner with these schools to create spaces that contribute to the overall bottom line. We help make these campuses more inviting, so that all visitors want to stay."
American Career College Ontario Campus
3130 East Sedona Court
Ontario, CA 91764
ACC Online Photo Gallery
Mt. San Jacinto College Menifee Campus
28237 La Piedra Rd.
Menifee, CA 92584
Menifee Online Photo Gallery
About LPA Inc.
Founded in 1965, LPA has more than 225 employees with offices in Irvine and Roseville, Calif. LPA provides services in architecture, engineering, interior design, landscape architecture, planning, signage and graphics. They have more LEED-certified buildings than any firm in the state and of their employees, more than 70 percent are LEED accredited professionals.
With extensive experience in public and private architecture, LPA designs a diversity of facilities that span from civic and corporate establishments to K-12 schools, colleges and universities. Their passion for Higher Education design manifests itself in more than 80 projects, 25 of which were completed during the past five years and won 37 awards for excellence in educational design.
Contact
Rochelle Veturis
Media Relations
LPA Inc.
(949) 701-4148
###