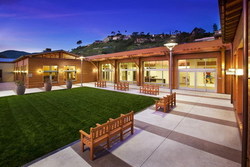 It's an amazing thing to accomplish and we are grateful to have been a part of this experience.
Laguna Beach, CA (Vocus) April 30, 2009
The new Susi Q Senior and Community Center brings the vision of a long-awaited, multigenerational destination to reality in the heart of Laguna Beach. Community members, neighbors and city staff marked the recent grand opening with day-long festivities. Before the meeting rooms and studios were bustling with active seniors and inquisitive youth, there was a story of independence, community and environmental responsibility that sparked the inspiration for the center.
"This multigenerational Center has immediately become the community's activity hub--a unique combination of beauty, sustainable design and function in downtown Laguna Beach," says Laguna Beach Director of Community Services Susan Cannan.
The foundation of the building's design is centered on energy-efficient, green building strategies. Early on, sustainable design experts at California-based LPA Inc worked closely with city staff and community supporters to facilitate an appropriate eco-friendly design.
"The city carefully weighed a number of green options and ultimately chose an approach that focused on an abundance of light throughout the facility to cut down on energy costs, and the use of recycled, natural and low-maintenance materials," says LPA Civic Principal Jim Wirick.
Located in downtown Laguna Beach, the 8,200-square-foot Susi Q Senior Center and 8,000-square-foot Community Center nearly parallel the spectacular pacific coast. Situated in a u-shape design, the senior center is located to the north and the community center to the south, nestled above subterranean parking. Reflecting the values of the community it serves, the center's shared central spine joins the two arms of the building that embrace the community with an inviting outdoor central courtyard.
"In terms of the green measures at Laguna, we first started by looking at building materials. There's a substantial amount of concrete in the project, so we implemented the use of fly-ash as part of the aggregate, reducing water and adding a recycled content to the concrete mix. There is also a significant amount of structural steel which contains a high recycled content as well. Then, we looked at the building's fabric, materials and interior finishes, we employed things like using dual-glazed windows to block heat," explains LPA Design Principal Wendy Rogers. "We also fashioned rapidly renewable products like bamboo cabinetry and sustainable carpet -- which contain a minimum of 10 percent recycled content -- and covered the walls with low-emission paints."
The Center maintains the eclectic array and intimate scale of buildings found throughout the village of Laguna. Designers cleverly infused the residential character of the unique canyon and beachfront setting surrounding the facility.
Other inviting features of the facility include a lobby area; reception; a multipurpose/library room with a fireplace overlooking the outdoor courtyard; dance and fitness studios; an art studio with roll up doors that spill out into the terrace to seat outdoor classes; a computer lab; a game room; a conference room; a kitchen area; a storage area, and a 72-space parking garage. The total project cost is around $15 million.
Primary sustainable design features include:

Natural daylight through skylights and solar tubes.
Operable aluminum-clad wood windows.
Water efficiency through drip irrigation and water efficient fixtures.
Heat island reduction through a cool roof and covered parking.
Use of building materials with high recycled content.
The recycling of 75 percent of the construction waste.
"The center embodies the idea of a place where everybody in the community can come, relax and enjoy themselves," finishes Rogers. "It's an amazing thing to accomplish and we are grateful to have been a part of this experience."
Laguna Beach Senior & Community Center
385 Second Street
Laguna Beach, CA92651
Online Photo Gallery
Project Management was provided by Griffin Structures Inc. and Swinerton Builders served as the Contractor.
About LPA Inc.
Founded in 1965, LPA has more than 225 employees with offices in Irvine and Roseville, Calif. LPA provides services in architecture, engineering, interior design, landscape architecture, planning, signage and graphics. They have more LEED-certified buildings than any firm in the state and more than 70 percent of their employees are LEED accredited professionals.
With extensive experience in public and private architecture, LPA designs a diversity of facilities that span from civic and corporate establishments to K-12 schools, colleges and universities. Their passion for civic design manifests itself in more than 60 projects, 15 of which were completed during the past five years and received 25 awards for excellence in design.
Contact
Rochelle Veturis
Media Relations
LPA Inc.
(949) 701-4148
###