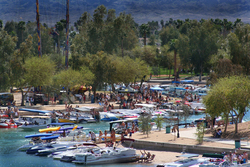 Where should we go on vacation this year?
Lake Havasu City, Ariz. (Vocus) April 30, 2009 –
As summer draws nearer, families will soon be answering the all important question: "Where should we go on vacation this year?"
With economic concerns playing a big part in the decision making process, affordable destinations, such as Lake Havasu City, become attractive options. Add in the fun for which Lake Havasu City is known, and it becomes a smart choice as well.
Lake Havasu City enjoys several unique qualities that attract boaters from throughout the south west. It's the only city in all of Arizona, and one of the only in the region, that resides on the shores of a major lake. "All the fun of the water and the convenience and amenities of a resort community are right next to each other. It's the perfect balance," said Char Beltran, President and CEO of the Lake Havasu City Convention and Visitors Bureau.
While many lakes in southern California are under heavy restriction, limiting the size and number of boats, as well as speed at which the boat is able to travel, Lake Havasu is free from such limitations. "The freedom of boating is still very alive and well here," said Beltran. Boaters are free to run the entire 45 miles of the lake, and can even run to nearby Laughlin, up the Colorado River for a scenic and fun day trip.
Because Lake Havasu City is such a popular boating destination, the city is geared towards the boater lifestyle. Boat parking is ample at local hotels, making it easy when you come in from a day at the lake. Two hotels actually let you leave the boat in the water. The London Bridge Resort has courtesy docks, where guests can leave their craft when they're done for the day. The Nautical, billed as Arizona's only all beachfront resort, is situated so that guests can pull their boats up on shore right in front of their room.
Lake Havasu City is a smart choice budget wise as well, as prices for just about everything are at the lowest they've been in years. Hotels are offering attractive specials, anywhere from discounted room rates to "buy one get one half off" deals. Gas prices are nearly three dollars a gallon less than what they were last year, making it easy on the budget to fill up the boat and run around the lake for a few days. Restaurants are advertising discounts on dining, and the shopping centers are promoting discounted goods. Visitors can come away with more, while spending less in Lake Havasu City.
"This is a great time for a visit," said Dick Gilbert, chairman of board of directors of the CVB. "While the economy is always on our mind, we need vacations more than ever. Lake Havasu City allows you to take that needed time away while truly relaxing, and taking a break from the stress of the times. It's a getaway that truly lets you escape."
Non boat owners can still get in on the fun, as several rental companies offer everything from a personal water craft (commonly known by the brand name jetski) to fully furnished houseboats that are the embodiment of floating luxury. Many of the rental companies also partner with the hotels, offering additional savings on rooms and rentals.
One of Lake Havasu's most popular hangouts is the Bridgewater channel. The sparkling blue waters of Lake Havasu beneath the world famous London Bridge, purchased and relocated by town founder Robert McCulloch. The beaches of the channel have become a popular gathering place for friends. Various shops and restaurants line the channel offering everything from swim wear to snacks. Two of the city's most scenic and verdant parks are here as well, London Bridge Beach and Rotary Park.
Of course the lake has plenty of area to get away as well for those looking for a quiet, secluded spot to call their own. BLM (Bureau of Land Management) campsites ring the lake, and there are more than 400 miles of shoreline, promising boaters a little slice of the lake to call their own during their vacation.
Fishing is very popular on Lake Havasu, as large and small mouth bass as well as striper are very active during the summer months. A multimillion dollar fisheries program started by the BLM and numerous governmental agency and volunteer partners, have turned the lake into one of the west's top sport fishing destinations, as limits of 5 bass routinely come in well over 20 pounds.
Off the water, Lake Havasu is home to a thriving night life. A host of nightclubs, bars and restaurants cater to every possible taste, while two theatre companies stage regular productions at a pair of performing art centers. And everything is located just minutes from any hotel in town.
"Convenience, fun and affordability. Lake Havasu City makes for the perfect summer boating vacation," said Beltran. For more information, visit http://www.golakehavasu.com/boating.
###