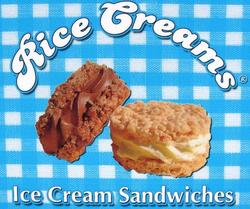 Hawthorne, NJ (PRWEB) April 30, 2009
Wendy Christoffel first started making her popular ice cream sandwich back in 1981 for her young sons and neighbors, and they all kept coming back for more. She never thought that one day she would attempt to take a bite out of the current $2.5 billion frozen novelty market. In 2009, Rice Creams, Inc. will begin to offer their patent-pending ice cream sandwich online in addition to vendors and direct-to-consumer by way of their custom pushcarts. Unlike the typical, generic ice cream combination sandwiches so commonly found in store freezers today, Rice Creams® ice cream sandwiches will offer consumers an extraordinary, new combination of wafers and ice cream. Rice Creams, Inc. was the first company to offer this confectionary combination since incorporating in 2005.
Crafted of crispy rice and marshmallow wafers with ice cream in a variety of flavors, the Rice Creams® combination has proven to be a "real winner" according to the company's president, Drew Christoffel: "We test marketed last year in various outlets from New York to Georgia to Chicago and the response was better than we could have ever anticipated. Behemoths in the ice cream novelty segment such as CoolBrands and Unilever USA deliver a wide array of frozen confections, but offer nothing like our Rice Creams® ice cream sandwich. In fact, no one does. What we offer in terms of quality, taste, and texture is unique in the segment. It's a wholesome combination that's hard to beat once we get it into consumer's hands. It's why we came up with our slogan: One taste and you'll know why we made more than just one!™ Christoffel remarks: "It's quite the feeling of accomplishment when you watch people choose your product over others when you're shoulder to shoulder with the likes of a Mrs. Field's ice cream sandwich and a Klondike bar in the freezer. You know you're doing something right."
The Rice Creams® will continue to rollout, encompassing various outlets in the northeast. Additionally, Rice Creams® pushcarts will be in attendance at many public events throughout the New York and New Jersey area. Rice Creams® custom ice cream push carts will continue to be available for hire for private and public functions throughout the region. Consumers are now able to purchase Rice Creams® ice cream sandwiches online at: http://www.ricecreams.com/buy-now.php
Each Rice Creams® premium ice cream sandwich weighs 4.75 ounces and are produced exclusively at the company's 5000 sq. ft. headquarters in Hawthorne, New Jersey. Current flavors include vanilla, chocolate, and strawberry with several other flavors currently in development. Rice Creams® ice cream sandwiches are tree nut and peanut-free and have zero percent trans fat. Rice Creams® are not gluten-free and contain gelatin as part of the marshmallow.
Those seeking further information are invited to visit the company's web site at: http://www.ricecreams.com
Rice Creams, Inc. is currently negotiating to supply Morey's Piers of Wildwood, NJ http://www.moreyspiers.com to be the exclusive Rice Creams® ice cream sandwich provider to the Jersey shore by way of kiosks and pushcarts. With 3.5 million visitors annually, Morey's Piers is the largest amusement park operator in the State.
Rice Creams ® is a registered trademark of Drew Christoffel and Rice Creams, Inc.
One Taste And You'll Know Why We Made More Than Just One!™ is a trademark of Drew Christoffel and Rice Creams, Inc.
Ricecreams.com is the official web site of Rice Creams, Incorporated.
###