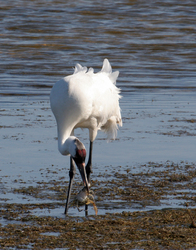 There is a strong correlation between the increased salinity and the absence of blue crabs
Seguin, TX (PRWEB) April 29, 2009
Members of Texans for a Sound Energy Policy Alliance (TSEPA) today criticized GBRA/SARA's release of a seven-year, $2 million publicly-funded study that found little to no new information to alleviate their responsibility to the federally-protected endangered whooping crane.
According to the study, known as San Antonio Guadalupe Estuarine System (SAGES), more research is needed to fully understand the cranes' winter habitat of salty marshes along the San Antonio Bay. The study was conducted mostly by undergraduate and graduate students at Texas A&M University.
TSEPA observed that GBRA has attempted to use this report to justify reducing inflows to the whooping cranes habitat by 90%. One of the authors of the study, Steven E. Davis, III, responded by advising, "Extrapolation of the [SAGES] simulation model is tenuous and probably should not be done."
The winter of 2008/2009 was the worst in the recent history of the recovery of the whooping crane. The study claims there is plenty of food for the cranes, yet fails to explain why 23 birds, representing 8.5% of the flock, died this winter. Jim Blackburn, an environmental attorney for TSEPA explains, "This winter disproves most of the speculation of this report--the bird deaths are undisputed."
The SAGES research confirms the previously held belief that blue crabs are the most optimal source of protein for the cranes, which require large amounts of quality protein for migration to Canada and nesting upon arrival. TSEPA points out that the study fails to explain why the field surveys taken from January through April of this year showed that there were alarmingly few blue crabs in the marshes that serve as the traditional feeding grounds of the crane. As salinity levels have reached new heights in the marshes, blue crabs have been disappearing at disturbing rates.
"There is a strong correlation between the increased salinity and the absence of blue crabs," explains Jim Blackburn. "The study's conclusion was not that the whooping cranes will be fine without blue crabs, it was that the ecosystem is too complex to be understood and that more research is necessary to create a negative correlation."
The study also confirms that the current drought conditions are having a negative impact upon both the blue crab and the cranes, suggesting that further reduced inflows as a result of upstream industrial uses pose another great risk to the cranes. "In a nutshell, less fresh water reached our bays and estuaries this year than can be explained by the drought," said Blackburn. "Industrial and municipal water use further lessened those flows and magnified the crisis--and future uses will only amplify this problem. By acting as a water merchant and not a conservation authority, GBRA is mismanaging this precious resource necessary to the habitat of a federally-protected endangered species."
TSEPA's mission is to support a Texas energy supply policy that is reasonable, sustainable, and environmentally sound. To learn more about TSEPA, visit http://www.speakupvictoria.com.
###